Harvey's next start in question with ASG looming
Harvey's next start in question with ASG looming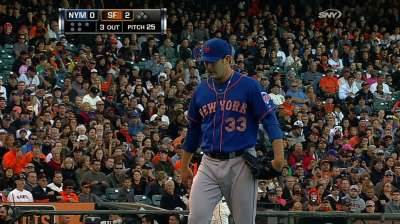 SAN FRANCISCO -- Prior to Matt Harvey's start against the Giants on Monday, Mets manager Terry Collins presented the possibility that Harvey would not pitch in the All-Star Game if he threw 115 or more pitches in his scheduled start Saturday.
After Harvey's 121-pitching outing in San Francisco, the manager discussed a different plan, making it all but certain that the 24-year-old right-hander will be available for the July 16 All-Star Game. Harvey might be skipped in the rotation Saturday at Pittsburgh or, if he does start, will make an abbreviated outing.
"Whatever they decide is their call," Harvey said. "I'm going to prepare like I have a start and whatever they tell me is the way it goes."
Collins revealed after the game that Harvey has been battling a blister on his right index finger the past three starts, an issue that Collins said is not a factor in his plan for Harvey's start Saturday.
"He has a small blister that we've kept quiet, and he hasn't been throwing much between outings," Collins said.
Although Harvey admitted that the blister has affected his ability to feel pitches, he downplayed the notion that it has inhibited his performance.
"It's no excuse for my poor pitching," said Harvey, who has now registered a quality start in six of seven outings and 16 of 19 starts this season.
In Harvey's start Monday, he allowed three runs in seven innings against Giants manager Bruce Bochy, who is managing the National League squad and will choose the All-Star Game starter. Bochy had said Harvey's start against the Giants -- as well as that of candidate Clayton Kershaw, who allowed one run in eight innings Sunday at AT&T Park -- would not factor into his decision much and that his mind was already mostly made up.
Before the game, Collins, a coach on Bochy's staff for the All-Star Game, was questioned about Harvey's usage in the All-Star Game and if he could envision a disagreement over how his star pitcher will be used.
"Is there going to be a fight between [Bochy] and I?" Collins joked. "No, I don't think so. I'm overmatched. It will be well-thought-out before then."
According to the Collective Bargaining Agreement, pitchers who start on the Sunday before an All-Star Game have the option to participate in the game, but for no more than one inning or a preset pitch count worked out by the pitcher and manager beforehand.
"I've got to be honest. I haven't talked to anybody," Collins said. "I haven't talked to MLB, I haven't talked to [Bochy], I haven't talked to [executive vice president of baseball operations] Joe Torre, [senior vice president of scheduling and club relations] Katy Feeney, anybody.
"I don't know where [Harvey] stands, I don't know how many innings David Wright is going to play, I don't know anything. As far as asking about Matt's availability, that will be asked, I'm sure, Saturday night."
When asked who will make the final decision on Harvey's availability for the All-Star Game, Collins replied, "Not me, but I'm sure our organization does."
Andrew Owens is an associate reporter for MLB.com. Follow him on Twitter @OwensAndrew. This story was not subject to the approval of Major League Baseball or its clubs.