Aardsma enjoys pitching in former park
Aardsma enjoys pitching in former park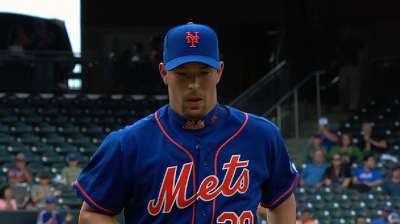 SAN FRANCISCO -- Mets right-handed reliever David Aardsma had a homecoming of sorts Monday night at AT&T Park against the San Francisco Giants.
For the first time since the Giants traded him on May 28, 2005, to the Chicago Cubs, Aardsma pitched at AT&T Park against his former team.
Aardsma pitched 1 2/3 scoreless innings during the Mets' 4-3, 16-inning win. In four career appearances against the Giants, he has yet to allow a run. He's held the Giants to two hits over 5 1/3 innings, striking out eight and walking one.
Pitching at AT&T Park was special but had nothing to do with payback, Aardsma said.
"It's great being back," said Aardsma, who was drafted by the Giants with the 22nd overall pick in 2003. "It's just as lively and great as it was back in 2004 when I was here. It's a pleasure.
"I have great memories. I have no bad feelings about it," he said Tuesday of the trade. "I loved my time here with the Giants. I think they're a great organization. Great city. I actually lived here a little bit even before I was a Giant. So I love this this city. I love the area."
Aardsma went 1-0 with a 6.75 ERA in 11 relief appearances in 2004. The next season, he was starting in the Minor Leagues when the Giants traded him and right-hander Jerome Williams to the Chicago Cubs for reliever LaTroy Hawkins, his current Mets teammate.
"I didn't expect it," Aardsma said. "I was in Double-A, pitching very well. They wanted me to become a starter. It was going very well. Then I got traded. It was a shock."
The fact that the Giants traded him to the Cubs, his "dream team," eased the blow. He grew up in Denver watching the Cubs on WGN.
Aardsma signed this season with the Mets on May 20 after being released by Miami. He's 1-0 with a 2.63 ERA in 14 appearances with the Mets and has stranded all eight inherited baserunners.
Eric Gilmore is a contributor to MLB.com. This story was not subject to the approval of Major League Baseball or its clubs.