Marcum to have surgery, season over
Marcum to have surgery, season over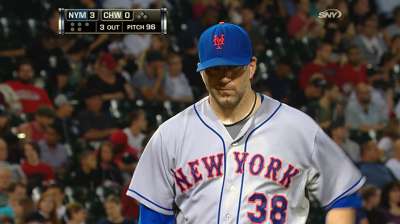 SAN FRANCISCO -- Mets right-hander Shaun Marcum has been diagnosed with thoracic outlet syndrome and will undergo season-ending surgery Monday in St. Louis, assistant general manager John Ricco said Tuesday.
Marcum experienced tingling and numbness in his right hand during his past two starts. He was examined Monday in St. Louis by Dr. Robert Thompson, who will perform the surgery.
"So the two courses of treatment would be conservative, which would be rehab, or surgery," Ricco said. "And Shaun has opted to have the surgery. And that is the recommendation of our doctors as well.
"It involves an artery that's blocking circulation. It's something that's impeding circulation, and they go in and do a procedure that frees up the blood flow."
Ricco said that "based on the diagnosis," Marcum will not be able to pitch again this season.
"What they've told us is he may be able to begin throwing in a couple of months. That would put him in early September," Ricco said. "I don't think there would be enough time for him to get back to the big leagues."
Marcum is 1-10 with a 5.29 ERA. In his last start on Saturday at Milwaukee, he allowed six runs (five earned) on 11 hits in five innings of a 7-6 loss to the Brewers.
The Mets recalled right-handed reliever Gonzalez Germen from Triple-A Las Vegas, and he was activated for Tuesday night's game against the San Francisco Giants, taking Marcum's roster spot.
Right-hander Carlos Torres will move out of the bullpen and take Marcum's spot in the rotation until Jon Niese recovers from a shoulder injury and returns from the disabled list, manager Terry Collins said.
Torres went 6-3 with a 3.89 ERA in 12 starts for Triple-A Las Vegas before being recalled June 15. In eight relief appearances with the Mets, he has allowed one run over 13 2/3 innings and has an ERA of 0.66. Torres said he has "no preference one way or the other" when it comes to starting or relieving.
"Everyone in the bullpen has been stepping up and doing a great job, and the starters have been keeping us right there in the game. We're all ready to go no matter what you ask us to do," Torres said.
Collins said there's a "possibility" Torres could start a game before the All-Star break if he decides to skip right-hander Matt Harvey's scheduled turn in the rotation Saturday. Harvey has been battling a blister on his right index finger. He's also on the National League's All-Star team and is considered to be a candidate to start the game Tuesday at Citi Field.
Although Collins said Harvey's finger looked "tremendous" Tuesday, he acknowledged it's still an issue in his decision on whether to skip Harvey's turn. Collins also said he will try to cut back on Harvey's workload.
"It's mostly about the finger, which has a little play about the All-Star Game, for sure," Collins said. "We're in discussions right now. [Pitching coach] Dan [Warthen] and I are trying to figure out how to start to cut this guy back a little bit. We'll have to decide what happens on Saturday. ... We'll start to limit it in various ways to make sure he's still strong and pitching well at the end of the season."
Eric Gilmore is a contributor to MLB.com. This story was not subject to the approval of Major League Baseball or its clubs.