Recker uses football skills to block plate
Recker uses football skills to block plate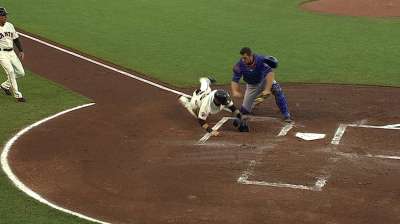 SAN FRANCISCO -- At 6-foot-2 and 240 pounds, Mets backup catcher Anthony Recker is built like a football player, which is exactly what he was at Catasauqua High School in Pennsylvania.
Recker put his football skills to good use in the first inning Tuesday when Giants second baseman Marco Scutaro tried to score from first on a double by Pablo Sandoval.
Left fielder Andrew Brown quickly got the ball to shortstop Omar Quintanilla, and he fired a strike to Recker, who drove a shoulder into Scutaro and delivered a hard tag.
"I've always kind of taken pride in being able to block the plate, but honestly, when that ball was coming in from [Quintanilla], I knew he had a really good shot at him, and [Quintanilla] made a great throw. I didn't want to get the short hop so I came up one or two steps to catch it on the fly. It just kind of brought me into him, so I just kept going. I probably gave him nowhere else to go. It was a good, hard-nosed play. Hopefully he's OK."
Scutaro appeared to be shaken up but remained in the game.
Recker looked like a fullback delivering a block on the play at the plate, but that wasn't his position in high school.
"Linebacker, tight end and I punted," Recker said. "Very good punter."
With the Mets, Recker has put his power to good use as a catcher and a hitter. He hit his fifth home run of the season in Tuesday's 10-6 win, a two-run shot in the sixth inning that gave the Mets a 5-3 lead. Four of his five homers this year have either given the Mets the lead or tied the game.
"He's a big, strong guy," Mets manager Terry Collins said. "He's done a nice job. The days he plays, he's dangerous."
Eric Gilmore is a contributor to MLB.com. This story was not subject to the approval of Major League Baseball or its clubs.