Wright almost pitched in 2008 All-Star Game
Wright almost pitched in 2008 All-Star Game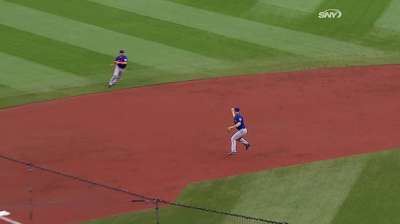 PITTSBURGH -- David Wright is thankful the marathon 2008 All-Star Game ended when it did. Had it gone past the 15th inning, Pirates manager Clint Hurdle -- then with the Rockies -- would have put Wright on the mound because he didn't have any relievers left.
"The game would have been over pretty quick if I got in," Wright said, laughing.
Wright didn't originally make the National League All-Star team that season, but got the call when Alfonso Soriano withdrew because of injury. The Mets' third baseman was in the game as a designated hitter in the 15th.
Brad Lidge, then with the Phillies, gave up a sacrifice fly to Michael Young in the bottom of the 15th, but Lidge would have thrown just that one inning had he kept the game tied.
Wright had never and still has not pitched in a Major League game. But Hurdle approached him in the 15th and said, "Have you ever pitched before?" Wright responded with a confused look, Hurdle recalled, but was the only real option because he was the DH. Wright said he would have done whatever he had to do.
"My safety may have been at risk," Wright said with a smile. "That's a lot of good hitting and some bad pitching."
Steven Petrella is an associate reporter for MLB.com. This story was not subject to the approval of Major League Baseball or its clubs.