Mets making a habit of playing extra-inning games
Mets making a habit of playing extra-inning games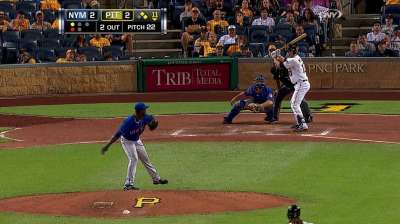 PITTSBURGH -- Extra-inning games are a part of baseball, but that isn't making the Mets' time with them any easier.
New York has played 19 extra innings already this month, and 12 extra-inning games this season, tied for the fourth most in the National League entering Saturday. Five of those games have gone 13 frames or more, including a 20-inning marathon with Miami in early June.
"I'd rather not play any extra-inning games. I'd rather win in nine, or 8 1/2," third baseman David Wright said. "Extra innings every once in a while aren't that bad, but when you make a habit out of it like we do, on top of that, not just play 10 or 11, we have a tendency to play more than that. For sure, it catches up with you."
The Mets clawed back from a 2-0 deficit Friday night with a run in the sixth and seventh to force extra innings, but they used four pitchers in the ninth and eventually lost on a seeing-eye single in the 11th.
"Nobody plays more extra-inning games than us," manager Terry Collins said. "That tells you we're fighting and we're hanging in there and our pitching is keeping us in some games."
Steven Petrella is an associate reporter for MLB.com. This story was not subject to the approval of Major League Baseball or its clubs.