Quintanilla's strong work puts pressure on Tejada
Quintanilla's strong work puts pressure on Tejada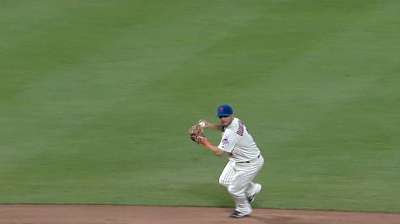 NEW YORK -- The Mets are in no hurry to jettison shortstop Omar Quintanilla after the way he's been playing since being recalled from Triple-A Las Vegas on May 30. So if Ruben Tejada does eventually make his way back to the Major Leagues, he's going to have to prove he belongs in order to keep his spot on the team.
Tejada, who went on the DL on May 30 with a right quad strain, is hitting .315 with seven RBIs for Las Vegas. He also has a .363 on-base percentage. While with the Mets, Tejada hit .209 with a .267 on-base percentage in 50 games.
Before suffering the injury, Tejada struggled at the plate because he was hitting the ball in the air too often. Mets manager Terry Collins said Tuesday that Tejada is making some improvement in that area, but not quite enough.
"He's swinging better," Collins said. "He's getting the ball out of the air a little bit more, not to the satisfaction of the people that are watching it."
With Quintanilla at shortstop, though, the Mets don't have much of a need for Tejada at this point. Quintanilla has provided strong defense in the 44 games he's played with the team. He's hitting .227 with two home runs and 14 RBIs, and he has a .316 on-base percentage.
The Mets lost Quintanilla because of a roster crunch last season, but signed him again this offseason. The club doesn't want history to repeat itself.
"I know one thing we don't want to do, and that's lose Quintanilla," Collins said. "We're going to make sure that when Ruben comes back that he's playing as well as he can possibly play. If that's the case, we've got some other decisions to make, but they aren't going to be easy."
If the Mets need Tejada, they're going to want him to be the player he was in recent seasons, not the one who hasn't seen the Major Leagues since May. He had an OBP of at least .305 in each of the past three seasons.
"Sometimes when you take that next step, the motivation's a little bit higher that you don't want to go back," Collins said. "Maybe you get the kind of player we've seen the last couple years."
Chris Iseman is an associate reporter for MLB.com. David Wilson is an associate reporter for MLB.com. This story was not subject to the approval of Major League Baseball or its clubs.