Gaining consistency a priority for Wheeler
Gaining consistency a priority for Wheeler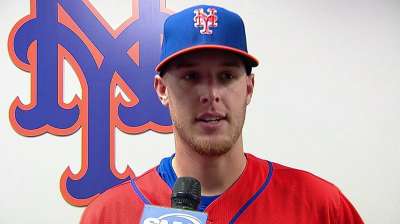 NEW YORK -- The beginning of a young pitcher's career is subject to drastic shifts, brought on by larger mistakes and even the smallest quirks.
Zack Wheeler's rookie season has been no different. His debut was brilliant, but then he began tipping his pitches. He threw a dominant seven innings of one-run ball against the Giants, but then was felled by a blood blister that held him to just 4 2/3 innings against the Phillies and endangered his next start. For every opportunity that Wheeler's taken to assert his talent and potential, the cruel whims of a 162-game baseball season have set him back.
"You're in the big leagues, you want consistency," Wheeler said. "You're a starting pitcher, you want consistency."
After surrendering a leadoff home run to shortstop Jimmy Rollins, Wheeler settled in and held the Phillies scoreless for the next four innings. But he started to unravel. As the blister wore on him, he threw first-pitch balls to seven of the last nine batters he faced, went to two-ball counts on all six hitters he faced in the fifth inning and walked a pair of them. It wasn't just one pitch that was affected.
"Everything, really," he said. "It's a big blood blister where you release the ball, so it's going to affect it a little bit, but hopefully it's healed up."
Wheeler did admit that the blister wore on him.
"It got bigger every inning," he said.
While the blister coincided with his struggles on that particular day, Wheeler said it's also something he's dealt with before, but he hasn't had issues in the past. It's calloused over, and he's set to start on Thursday against the Braves.
"Try to take the good stuff for the good stuff and leave the bad behind," Wheeler said. "That's really all there is to it."
Chris Iseman is an associate reporter for MLB.com. David Wilson is an associate reporter for MLB.com. This story was not subject to the approval of Major League Baseball or its clubs.