Spot start for Mets 'happy' development for Mejia
Spot start for Mets 'happy' development for Mejia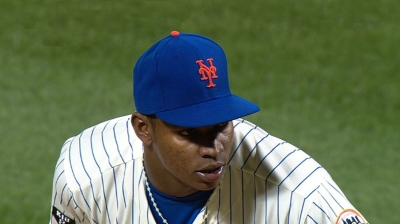 NEW YORK -- Jenrry Mejia stood in front of his locker, trying on a pair of caps.
He plopped one on his head, twisted it around. Not a fit. Then again, with another cap. He placed it on his head and fidgeted with it. Not quite.
Two days ago, the Mets' starter for the first game of their doubleheader on Friday with the Nationals was unknown, even to the player who it would eventually be. The decision came suddenly; on Tuesday, Mejia found out it would be him. He arrived in the Mets' clubhouse the next day without a cap of the ideal size, but less than 48 hours from his first start of the season.
"I didn't know I was even going to be there, and they told me yesterday," Mejia said, "and I feel pretty happy about it."
In 2010, Mejia joined the Mets as their top prospect. He went 0-4 with a 4.62 ERA, but a fastball that touched 98 mph made him a tantalizing young pitcher in the same ilk as Matt Harvey and Zack Wheeler.
Injuries have kept him from delivering on that potential. At 23, he will be the second-youngest player on the Mets' roster, seven months older than Wheeler. Mejia is no longer considered a premier prospect, but he still has years of baseball ahead of him.
"I'm still happy, because I believe in myself," Mejia said. "If I don't believe in myself, who's going to believe me?"
He will be a spot starter Friday and has been strong in two starts in Double-A Binghamton, posting a 0.82 ERA. Mejia still thinks he brings the most to the table, for both himself and the team, as a starter, but he's open to anything the Mets want from him.
"Reliever, starter, closer," he said. "Whatever."
Chris Iseman is an associate reporter for MLB.com. David Wilson is an associate reporter for MLB.com. This story was not subject to the approval of Major League Baseball or its clubs.