Turner day to day with sore right shoulder
Turner day to day with sore right shoulder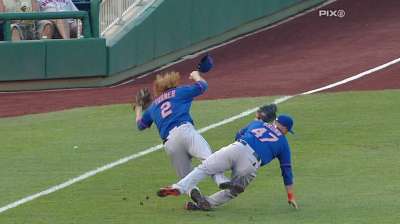 WASHINGTON -- Mets infielder Justin Turner left Game 2 of Friday's doubleheader with a sore right shoulder, the product of an earlier collision with left fielder Andrew Brown.
Ranging back to catch a popup in the first inning, Turner hung on to the ball after colliding with Brown, but was shaken up on the play and needed a moment to compose himself. He remained in the game until the bottom of the seventh, when Omar Quintanilla replaced him at shortstop.
"I'm not sure what hit what, but I'm guessing his forearm got me in the side of the head," said Turner, who is day to day. "I think his chin hit me in my shoulder, and then we went knee to knee, too -- his knee hit my left knee."
Admitting a communication breakdown with Brown on the popup, Turner described the pain as "a charley horse in my shoulder and a charley horse in my leg" that "just gradually kept getting tighter and tighter." In a tie ballgame late, he did not want to risk becoming a defensive liability.
"He's a little sore," manager Terry Collins said. "It just started to stiffen up on him, and that's why I took him out."
Turner recently rejoined the Mets after spending a month on the disabled list with a left intercostal strain. He is batting .265 with no home runs in 102 at-bats, appearing at five different defensive positions.
Anthony DiComo is a reporter for MLB.com. Follow him on Twitter @AnthonyDicomo. This story was not subject to the approval of Major League Baseball or its clubs.