Niese begins rehab assignment for Gulf Coast Mets
Niese begins rehab assignment for Gulf Coast Mets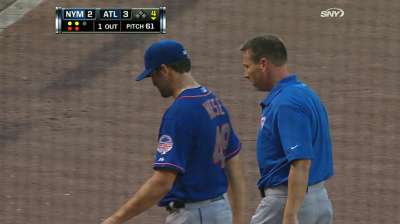 WASHINGTON -- Though he still remains a ways off from active duty, left-hander Jon Niese made his first Minor League rehab appearance Saturday for the Rookie-level Gulf Coast Mets. Niese, who has been on the disabled list since June 21 with a partial tear of his left rotator cuff, allowed three hits and four runs (two earned) in two innings against the Nationals' affiliate, striking out one.
"I don't know how many more he's got to go," manager Terry Collins said of Niese's rehab assignment, which can last up to a month. "We've got to get him up to where there's some endurance there, because the one thing we don't need is to have a pitcher come here right now this time of year and be a five-inning guy. We've got to make sure he builds up his pitch count to where he can at least go 100."
When Niese does return, the Mets will need to find a spot for him in their new six-man rotation, though Collins likes to note that such situations typically work themselves out. By the time Niese reaches the big leagues, the Mets may no longer even be using a six-man schedule.
Niese is 3-6 with a 4.32 ERA in 14 starts this season, pitching through shoulder discomfort in several of them. He came into this year fresh off a breakout season that saw him win 13 games with a 3.40 ERA.
Anthony DiComo is a reporter for MLB.com. Follow him on Twitter @AnthonyDicomo. This story was not subject to the approval of Major League Baseball or its clubs.