Collins says Mets likely to stand pat at Deadline
Collins says Mets likely to stand pat at Deadline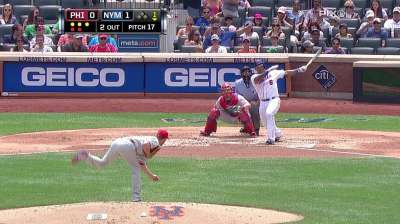 WASHINGTON -- Terry Collins reiterated on Sunday the growing industry consensus that the Mets will stand pat at the non-waiver Trade Deadline for the second consecutive year. Though the Mets boast an obvious trade chip in veteran outfielder Marlon Byrd, their manager said he doubts the front office will make any moves prior to Wednesday's Deadline.
"I have no reason to think it's going to change that much," Collins said of his roster.
Publicly, general manager Sandy Alderson has agreed, citing a desire to remain competitive in the short term that would be difficult to accomplish without Byrd. The Mets' regular right fielder and cleanup hitter, Byrd has made the most of the Minor League deal he signed last winter, submitting one of the best four-month stretches of his career.
Entering Sunday's play, Byrd was batting .278 with 17 home runs and a team-leading 58 RBIs. His .883 OPS against left-handed pitching ranked 20th in the National League.
Those numbers make him a desirable chip as a potentially impact platoon bat for a contender -- and an obvious trade candidate considering he is cheap and only under team control through this season. But rival executives have noted that the Mets' asking price on Byrd is high, hinting at the unlikelihood of a deal.
"You look at our team, and right now we've got some guys that are playing good," Collins said. "And I don't know what's going to happen the next three days. If I was a team that was in a hunt, who had a couple of holes, I'd go searching -- and we've got some guys. But from everything I'm hearing right now, there's no reason to think we're going to change."
Anthony DiComo is a reporter for MLB.com. Follow him on Twitter @AnthonyDicomo. This story was not subject to the approval of Major League Baseball or its clubs.