Niese hopes to return to Mets in mid-August
Niese hopes to return to Mets in mid-August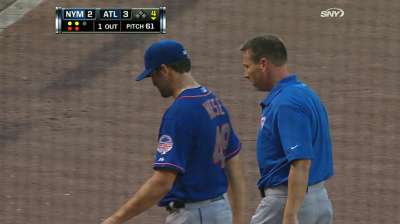 MIAMI -- Once feared lost for the season, left-hander Jon Niese is now targeting mid-August for his return from a partially torn rotator cuff in his left shoulder.
Niese, who drove down from Port St. Lucie, Fla., on Monday to visit his Mets teammates, plans to make his next rehab start Thursday for Class A St. Lucie, then another start five days after that. If all goes well, he hopes to rejoin the Mets one rotation turn later -- in theory, the week of Aug. 11.
"It feels great right now," Niese said of his shoulder.
Though neither Niese nor the Mets were willing to speculate on his recovery timetable at the time of his injury, the silent acknowledgement was that shoulder woes can often be serious. But after Niese rested for two weeks, a follow-up MRI revealed that the inflammation surrounding his shoulder tear had disappeared. That was enough for Niese to begin rehabbing last week in Port St. Lucie.
Niese acknowledges now that he spent most of April and May pitching through increasing levels of discomfort and pain, which he first experienced in the frigid mid-April temperatures of Denver and Minneapolis. Beginning with his starts in those cities, he went 2-6 with a 4.76 ERA, 40 strikeouts and 29 walks before the Mets placed him on the disabled list in late June.
"I felt healthy at the beginning of the season," Niese said. "I think it was after the Colorado and Minnesota series, being in that cold, after that it was just a struggle to heal in between starts. It was just a battle just to feel good. I didn't feel like I had my dominating stuff. I just felt like each outing was a grind. Eventually it got painful, so I just told myself I had to stop."
Anthony DiComo is a reporter for MLB.com. Follow him on Twitter @AnthonyDicomo. This story was not subject to the approval of Major League Baseball or its clubs.