Given second chance, Buck delivers winning shot
Given second chance, Buck delivers winning shot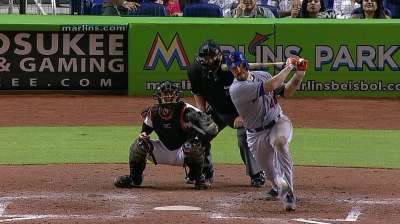 MIAMI -- Though John Buck made a critical out in the eighth inning of Tuesday's 4-2 win over the Marlins, grounding to the left side with Marlon Byrd on third base and one out, he came away from it about as pleased as a player can be with an unsuccessful at-bat. As manager Terry Collins put it, "All you're asking him to do is hit the ball hard someplace, and he did it."
So Buck did not change a thing when he came to the plate two innings later with the bases loaded and no outs. Looking to shoot a ball back up the middle, Buck did precisely that with a Steve Cishek sinker, driving in two runs to put the Mets ahead for good.
"That's the stuff we've got to do to win games," Collins said. "When they're giving you those runs out there, we've got to drive them in. That's how we're going to stay hot."
It has not always been so easy this season for Buck, whose torrid start to the season gave way to a .178/.259/.297 slash line from April 16 through July 5 -- nearly half a season's worth of at-bats. But since that time, Buck has hit .302 with 14 RBIs in 14 games, once again resembling the player he was in early April.
"Sure, why not?" Buck said when asked if Tuesday's go-ahead hit can be a building block for him. "I feel like I've been swinging the bat pretty good lately. Even the last game or two, I still felt pretty good in some of those at-bats. More or less, I'm going to stick with the approach that's going [well] -- hit it up the middle and the other way ... and be productive."
Anthony DiComo is a reporter for MLB.com. Follow him on Twitter @AnthonyDicomo. This story was not subject to the approval of Major League Baseball or its clubs.