Parnell rests Wednesday after heavy workload
Parnell rests Wednesday after heavy workload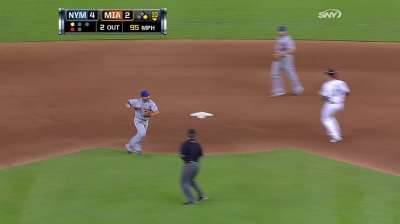 MIAMI -- Mets closer Bobby Parnell was unavailable Wednesday after pitching in three consecutive games, saving two of them but throwing 55 pitches in the process.
The hiatus gave manager Terry Collins a chance to reflect on just how valuable Parnell has been since taking over the closer's role from injured incumbent Frank Francisco. After struggling during ninth-inning stints in years past, Parnell has converted 22 of his 26 save opportunities this season with a 2.16 ERA and nearly four times as many strikeouts as walks.
"Bobby grabbed the opportunity and ran with it," Collins said. "I just think that over the last couple years, he's matured on the mound, his demeanor on the mound. His confidence in his stuff has changed. Right now, even though he can throw 100 [mph] if he needs to, he pretty much pitches at 94, 93, 95, and he tries to make pitches. And I think that's what's made a big difference for him."
For those reasons, general manager Sandy Alderson said he never really entertained offers for Parnell prior to Wednesday's non-waiver Trade Deadline, despite the closer's high value for any contender.
"We spent the last two-years-plus looking for a closer," Alderson said. "It looks like we've found one, so why would we trade him immediately?"
Anthony DiComo is a reporter for MLB.com. Follow him on Twitter @AnthonyDicomo. This story was not subject to the approval of Major League Baseball or its clubs.