Mets trying not to shut down Harvey, Wheeler
Mets trying not to shut down Harvey, Wheeler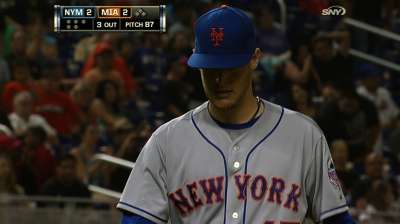 MIAMI -- Though the Mets' six-man starting rotation will help extend Matt Harvey and Zack Wheeler into September despite strict innings limits, the Mets continue to discuss other ways to keep those two pitchers active -- including possibly using Wheeler in relief.
"It's nothing that we're settled on, but we're just saying, 'Hey look, how can we get these guys through the year without having to shut them down completely?'" manager Terry Collins said, estimating that Wheeler has fewer than 10 starts remaining before he hits his limit. "One of them would be to save some of the innings and just say, 'You know what? The last two weeks of the season, you're going to pitch out of the 'pen.'"
Collins said he did not like the potential message that would be sent by limiting Wheeler in individual starts, reasoning, "What if he's throwing a no-hitter?"
But he also understands the need to prevent Wheeler -- and, to a similar extent, Harvey -- from throwing far more innings than ever before in his life. If that means a few games in the bullpen as opposed to the rotation, the Mets may be willing to do it.
"Is it etched in stone? The answer is no," Collins said. "I don't know what's going to happen. Over the next three weeks, there are a lot of things that can happen. We're just trying to figure out, how can we save innings and get these guys through it?"
Anthony DiComo is a reporter for MLB.com. Follow him on Twitter @AnthonyDicomo. This story was not subject to the approval of Major League Baseball or its clubs.