Young's quick feet an asset for Mets
Young's quick feet an asset for Mets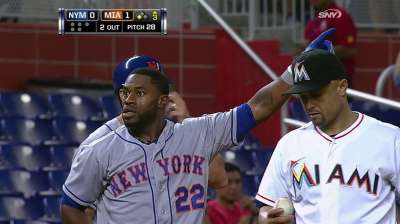 MIAMI -- Not since Jose Reyes have the Mets employed a starting position player as fast as Eric Young Jr. -- that much is clear. But unlike Reyes, who was at times hesitant to steal bases even in obvious situations, Young has proven to be an ultra-aggressive and creative baserunner.
Take Tuesday, for example. After walking to lead off the fifth inning, Young noticed that Marlins pitcher Nathan Eovaldi and catcher Jeff Mathis were not paying him much heed. So he executed a delayed steal on Mathis' throw back to the mound, catching the battery by surprise and sliding into second base safely.
A day later, Young pulled off an even more unorthodox feat, going first to third on a groundout. As Miami third baseman Placido Polanco corralled Daniel Murphy's shot to the left side and fired across the diamond, Young glanced quickly in Polanco's direction before bolting to third. Safe again.
"You definitely want to be aggressive," Young said. "You want the other teams to be on their feet, knowing that you're going to be aggressive. Obviously that aggression, there is a risk. But sometimes the other team might get in panic mode and throw the ball away, just because they know you might be looking to take the extra base."
Young said that he has always played that way, though he is perhaps a wiser baserunner now than in the past. Studying other team's tendencies, Young understands when he can afford to take a risk and when he might be better served with prudence.
Most times, he chooses the risk.
"In my mind-set, with my speed, I'm either going to be safe or I'm going to bring out the best in their defender, because they've got to make a perfect throw and a perfect play to get me out," Young said. "That's the way I look at it is it's not necessarily a mistake on my behalf. The other team's just going to have to make a perfect play. And if they make a perfect play, you tip your cap."
Young's speed has given the Mets a dimension that they have lacked since the days of Reyes. In addition to compiling 14 stolen bases in 36 games since joining the Mets, the outfielder has consistently taken extra bags on his teammates' hits and outs.
"One of the things that's probably gotten Eric Young to where he is today is his daringness on the bases, and using that quickness and that speed to his advantage," manager Terry Collins said. "There's going to be times where he's going to try to challenge somebody and they're going to throw him out, but you've got to force the defense to make a play."
Anthony DiComo is a reporter for MLB.com. Follow him on Twitter @AnthonyDicomo. This story was not subject to the approval of Major League Baseball or its clubs.