Parnell expects to be ready for Friday
Parnell expects to be ready for Friday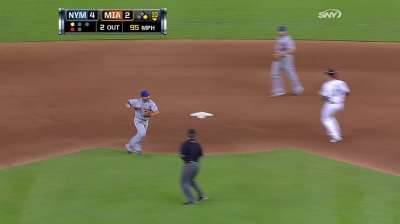 MIAMI -- The Mets arrived at Marlins Park on Thursday unsure of their closer situation for the second day in a row. Bobby Parnell was dealing with a bout of neck stiffness, according to manager Terry Collins, and was unavailable -- though ultimately unneeded -- in the 3-0 loss.
"He had a stiff neck the other night," Collins said. "I don't know if he slept wrong or what it was, but he came in the other day with a stiff neck and spent the game getting worked on."
Parnell ultimately pitched in that game Tuesday evening, working around a two-out walk to nail down his 22nd save in 26 chances with a 2.16 ERA. But the 28-year-old woke up the next morning feeling stiff, and he was unavailable in part because he had pitched three days in a row.
When asked what caused the injury, Parnell paused.
"Pillows?" he guessed.
Though Collins remained unconvinced late Thursday afternoon, Parnell said he expected to be ready to go for Friday night's game against the Royals at Citi Field. If he is not, right-handers LaTroy Hawkins and David Aardsma are the Mets' ninth-inning alternatives.
Anthony DiComo is a reporter for MLB.com. Follow him on Twitter @AnthonyDicomo. This story was not subject to the approval of Major League Baseball or its clubs.