Feliciano thrilled to be back in Majors with Mets
Feliciano thrilled to be back in Majors with Mets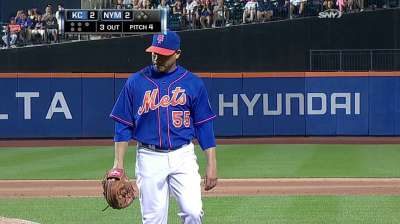 NEW YORK -- Pedro Feliciano arrived at Citi Field in the middle of the Mets' game against the Royals on Friday night. By the ninth inning, he was called on to get one of the most critical outs in the game.
With runners at first and third with two outs and the game tied at 2, Feliciano made his first Major League appearance since 2010. He did exactly what the Mets needed him to do, getting Alex Gordon to ground out to second base to preserve the tie in an eventual 4-2 walk-off victory for the Mets.
"After the eighth, I didn't think I was going to pitch. I saw the situation in the ninth, tie game," Feliciano said. "They called back to the bullpen and they called my name. I got a little pumped up and I couldn't wait to get on the mound."
It was a long road for Feliciano, 36, to get back on the mound at Citi Field.
He pitched for the Mets from 2002-04, then from 2006-10. He pitched in Japan in '05. From 2008-10, Feliciano led the National League in appearances with 266.
After the 2010 season, Feliciano signed a two-year contract with the Yankees. But persistent shoulder injuries, including surgery, kept him off a big league mound for the past two seasons.
He also suffered a sprained ankle last September.
"It's been hard," Feliciano said. "I worked hard and I'm back here. Thank God they gave me another chance and I'm happy to be here again."
Feliciano was recalled from Triple-A Las Vegas on Friday to fill the roster spot of Josh Edgin, who was placed on the 15-day disabled list with a stress fracture in one of his ribs.
Feliciano said he got on a mid-afternoon flight from Nashville, where the Las Vegas 51s were playing, and arrived at Citi Field after Friday's game had started. When he got out to the bullpen, he exchanged hugs with his teammates.
"They're happy to see me," Feliciano said. "It's been almost three years that I've been out of here. So they see me back here, and I get happy, too. I started hugging everybody like a big family."
Chris Iseman is an associate reporter for MLB.com. This story was not subject to the approval of Major League Baseball or its clubs.