Niese remains on track to rejoin rotation next Sunday
Niese remains on track to rejoin rotation next Sunday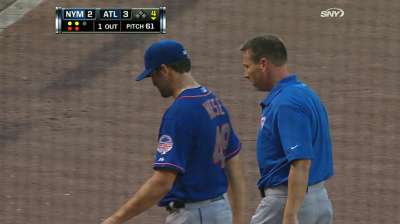 NEW YORK -- As long as his rehab continues to progress smoothly, left-hander Jonathon Niese will be on track to rejoin the Mets' rotation by next Sunday.
After throwing a bullpen session at Citi Field on Saturday, Niese will make one more rehab start Tuesday, most likely for Class A Brooklyn. He'd then be in line to pitch five days later in Arizona.
"That's the plan," Niese said. "Knock on wood, hopefully everything works out."
Niese has been on the disabled list since June 21 with a partial tear in his rotator cuff. Before the injury, Niese was 4-6 with a 4.32 ERA through 14 starts.
Pitching for Class A St. Lucie on Thursday, Niese threw four scoreless innings and 50 pitches. He allowed two hits with one walk and four strikeouts.
Niese said he felt good and probably could've pitched longer. He said he was able to keep his arm angle up without any pain.
"But that's the point we want to be at, to where I can take each step without any setbacks," Niese said. "I'm going to get another rehab start and see how I feel."
Chris Iseman is an associate reporter for MLB.com. This story was not subject to the approval of Major League Baseball or its clubs.