Parnell unavailable, to be reevaluated Monday
Parnell unavailable, to be reevaluated Monday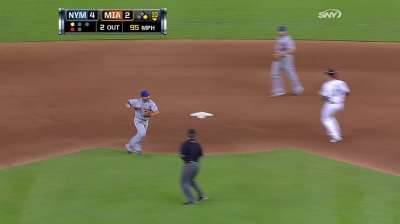 NEW YORK -- The Mets were still without their closer on Sunday, as Bobby Parnell continues to battle a stiff neck.
Parnell first experienced pain during the team's series in Miami last week, and it hasn't improved enough for him to get back on the mound just yet. He last pitched in a game on Tuesday, when he nailed down a 4-2 win to earn his 22nd save of the season.
Parnell has seen a doctor and received medication. He'll be reexamined on Monday. At that point, Mets manager Terry Collins said the team can determine whether or not a stint on the disabled list is necessary.
"I know he's getting looked at again," Collins said. "We'll know something after tomorrow to see where we're at."
For now, Collins has to figure out who he's going to bring in for a potential save. David Aardsma has pitched the last two days, with minimal success. He blew the save on Friday, then yielded the go-ahead home run to Royals pinch-hitter Justin Maxwell in the 12th inning on Saturday.
Collins said Aardsma can pitch an inning on Sunday if he's needed.
While Pedro Feliciano has pitched well since being called up on Friday, including a scoreless inning on Saturday, Collins said he'd rather not use him for a third day in a row.
"I don't think so," Collins said. "Yesterday was his first time he's gone back to back. I want to be very careful that I don't overdo it right now."
Although Feliciano pitched a second straight day on Saturday, he still had solid command of his pitches, an encouraging sign considering he hadn't pitched in the Major Leagues since 2010.
It would certainly help the Mets if Zack Wheeler pitched deep into Sunday's series finale against Kansas City. The Mets have played extra-inning games the past two days, and the bullpen has been used plenty. Not having their regular closer doesn't help.
Still, Collins said he still had Gonzalez Germen, Scott Rice, LaTroy Hawkins and Carlos Torres available Sunday.
"I've got enough," Collins said. "I hope."
David Wilson and Chris Iseman are associate reporters for MLB.com. This story was not subject to the approval of Major League Baseball or its clubs.