Mets insist Flores' future is as an infielder
Mets insist Flores' future is as an infielder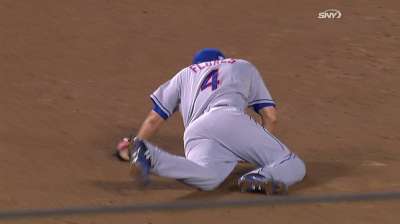 LOS ANGELES -- Make one thing clear: Wilmer Flores is an infielder -- definitely a third baseman, possibly a second baseman. Flores, manager Terry Collins insisted on Monday, will not appear for the Mets in the outfield or at first base.
That creates the rather obvious question of where he might play in the future. With David Wright entrenched at third base and Daniel Murphy holding down second, Flores may only have a future with the Mets if Murphy is traded. Which may yet happen.
But for the Mets even to entertain something like that, Flores will have to prove his value between now and season's end. Collins may not think eight weeks is a significant enough sample on which to judge a player, but in Flores' case, it's all the Mets have. So they will watch him throughout August and September, hoping to gain a better understanding of his skill set heading into Spring Training.
That audition will include some time at second base, where Flores played most of this season in the Minors. The Mets may use him there as soon as this week, with Murphy penciled in for an off-day against one of the Dodgers' left-handed pitchers. But that will depend on the health of Flores, who tweaked his right ankle running first to third in the second inning of Monday's 4-2 loss to the Dodgers. No tests are scheduled, and Flores is day to day.
"You'd like to try to keep him in a comfort zone as best as you can," Collins said. "But I think it's important when he gets an opportunity to play second base here to see how he handles it, so we can have a better judgment of whether or not we think he can play the middle of the infield at the Major League level."
As for Flores, defensive position doesn't matter. Being in the Major Leagues does.
"I'm just going to keep doing what I've been doing," said Flores, who tied a franchise record with nine RBIs through his first six career games. "I just want to play. I'll play anywhere."
Anthony DiComo is a reporter for MLB.com. Follow him on Twitter @AnthonyDicomo This story was not subject to the approval of Major League Baseball or its clubs.