Flores misses third straight start
Flores misses third straight start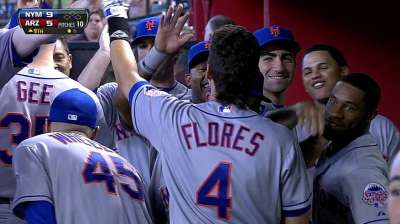 SAN DIEGO -- Describing injured third baseman Wilmer Flores as "a little bit better" on Thursday, Mets manager Terry Collins nonetheless held Flores out of his starting lineup for a third straight game.
Flores pinch-hit in Wednesday's loss to the Dodgers, but limped to first base and was immediately removed for a pinch-runner.
"Did you see him run down to first? Are you comfortable with that?" Collins said. "I don't think he's ready to run the bases. I saw him come out of the batter's box. He told me he could pinch-hit. I mean, I knew we were going to have to run. When I saw him come out of the batter's box, I thought they might throw him out at first."
Regardless, Collins said he would not hesitate to use Flores as a pinch-hitter Thursday, even if that meant removing him immediately for a pinch-runner once again.
"The fact that it's his back foot and not his landing foot, his stride food, probably helped a little bit," Collins said. "If you can't turn on that front ankle, you wouldn't be able to [hit]. So we caught a little bit of a break there. I thought it was important that he get an at-bat because, if he can't play for a few days, at least if we know he can go up and hit, it's going to help us."
Anthony DiComo is a reporter for MLB.com. Follow him on Twitter @AnthonyDicomo. This story was not subject to the approval of Major League Baseball or its clubs.