d'Arnaud to debut for Mets on Saturday
d'Arnaud to debut for Mets on Saturday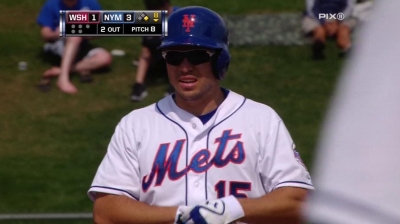 SAN DIEGO -- All spring and into summer, the Mets looked forward to a time when top catching prospect Travis d'Arnaud would stand on the same field as Matt Harvey and Zack Wheeler, assuming his place as a significant piece of the future.
That time has officially arrived, with d'Arnaud set to join the Mets in time for Saturday's game against the Padres. He will take the roster spot of starting catcher John Buck, who flew to New York on Friday to join wife, Brooke, for the birth of the couple's third child.
Mets general manager Sandy Alderson said there is a chance that d'Arnaud, 24, could stick around for good.
"It will be nice to see him in a New York Mets uniform," Alderson said. "At the end of three days, we'll see where we are."
Because d'Arnaud was in Salt Lake City with Triple-A Las Vegas and did not learn of Buck's situation until late afternoon, the Mets could not fly him to San Diego in time for Friday's game against the Padres. But delaying d'Arnaud's activation by a day also means that Buck can simply stay in New York, rather than rejoin the Mets on Monday in Minneapolis. Major League Baseball's paternity list lasts a maximum of three games.
The Mets plan to make the most of that time, likely starting d'Arnaud three games in a row. The second-ranked Mets farmhand is baseball's highest rated catcher and the 22nd highest rated player overall on MLB.com's 2013 Prospect Watch. d'Arnaud is also one of the hottest hitters in the Minor Leagues. The Mets promoted d'Arnaud to Las Vegas on Aug. 9 in large part to bring him closer to the big club on the West Coast in anticipation of Buck's situation. All the Southern California native has done since is go 8-for-20 with one home run and four RBIs, while drawing nine walks compared to four strikeouts.
"He's done very well there," Alderson said. "His approach offensively has been terrific. He's throwing the ball well. So we'll see what he offers."
Had d'Arnaud not fractured a bone in his left foot in April, he would have almost certainly been with the Mets long ago. As it was, the catcher missed more than three months, delaying his arrival.
"There's been a lot of anticipation and some disappointment, given the injury that he sustained earlier in the year -- more disappointment on his part than probably anyone else's," Alderson said. "So I think from his standpoint as well as ours, there's a lot of anticipation."
The centerpiece of last December's R.A. Dickey trade with the Blue Jays, d'Arnaud came to the Mets in a seven-player deal that included Buck and Noah Syndergaard, a 20-year-old pitching prospect who's sporting a 1.76 ERA in five starts since his midsummer promotion to Double-A Binghamton. Alderson said wryly that the organization is "happy to have them both."
But while Syndergaard remains about a year away from big league duty, d'Arnaud is now less than 24 hours away from his debut. The catcher's hot streak at Triple-A "heightens the probability that he'll stay here" beyond Buck's paternity leave, according to Alderson, meaning there is a chance d'Arnaud will assume the starting catcher's job for good. That would push Buck into a backup role and Anthony Recker to the Minors, at least until rosters expand in September.
With d'Arnaud in transit, Recker started Friday's game against the Padres, while outfielders Mike Baxter and Andrew Brown prepared for emergency duty if needed. The Mets do not have another catcher on their active roster.
Anthony DiComo is a reporter for MLB.com. Follow him on Twitter @AnthonyDicomo. This story was not subject to the approval of Major League Baseball or its clubs.