Flores returns to hot corner
Flores returns to hot corner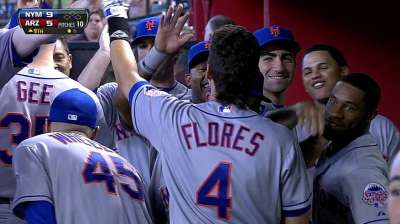 SAN DIEGO -- Though he was still nursing a sore right ankle, third baseman Wilmer Flores returned to the Mets' lineup Saturday evening against the Padres.
"I don't think he's 100 percent, but he can play," manager Terry Collins said of Flores, who injured his leg running the bases on Monday night in Los Angeles. "Certainly the issue is whether or not he can cut and stop and start, because that's the pressure it puts on your ankles. We had him run to test whether or not he could run the bases. He showed he was fine."
Collins said the training staff planned to wrap Flores' ankle heavily before the game, reducing the risk of aggravating the injury.
"He's not a blazer, so we're not worried about him losing a lot of speed," Collins said. "We're worried about making sure he can stop and start."
Flores, 22, is 8-for-28 with one home run and nine RBIs in eight games since making his big league debut.
Anthony DiComo is a reporter for MLB.com. Follow him on Twitter @AnthonyDicomo. This story was not subject to the approval of Major League Baseball or its clubs.