Mejia's elbow flareup may end his season
Mejia's elbow flareup may end his season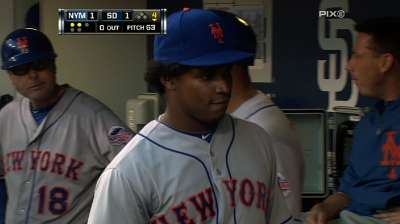 SAN DIEGO -- Mets pitcher Jenrry Mejia left Saturday night's 8-2 loss to the Padres with the score tied at 1 in the fourth inning because of a sore right elbow, which could ultimately end his season.
Mejia, who has battled elbow and shoulder issues throughout his young career, winced visibly while delivering his 63rd pitch of the night, a fastball, to Padres third baseman Logan Forsythe. He departed moments later after a brief chat with manager Terry Collins, pitching coach Dan Warthen and trainer Ray Ramirez.
"I didn't want to keep pitching with that," Mejia said. "This bothered me a lot today."
Mejia allowed one earned run on four hits in his three-plus innings, with five strikeouts and one walk.
"Obviously the elbow is an issue," Collins said. "You knew that there was a time that it might come back, might flare up again. Certainly we didn't realize the severity of today's situation."
Mejia has been pitching all year with bone spurs in his right elbow, with plans to have them surgically removed after the season. Though the right-hander has admitted to feeling discomfort at times on the mound, he compiled a 2.30 ERA with 27 strikeouts and four walks in 27 1/3 innings.
"I don't have to worry because everybody knows [what it is]," Mejia said. "The doctor said it was a bone chip, and I knew this was going to happen."
Because Mejia will undergo surgery this winter, there is a chance this flareup may end his season. The Mets do not plan to have him throw a baseball again before being examined by their doctors in New York.
"We all know that he's had some issues with his elbow," general manager Sandy Alderson said, reiterating that Mejia was under no risk of further damaging his arm. "He was pitching to tolerance, and that tolerance was exceeded tonight, apparently."
David Aardsma replaced Mejia with a 2-0 count on Forsythe, no outs and the bases empty. He gave up four runs on six hits in two innings as the first of three Mets relievers.
With the bullpen obviously short as a result, the Mets plan to make a roster move prior to Sunday's game; right-hander Greg Burke is a leading candidate to join the club from Triple-A Las Vegas. Then the Mets will go about solving the riddle of how to replace Mejia in the rotation, assuming he misses at least one start.
Carlos Torres, who pitched 2 1/3 innings of relief on Saturday, has worked in the rotation in the past for the Mets, and could rejoin that group now. The Mets do have a bright young pitcher at Las Vegas in Rafael Montero, but the right-hander is rapidly approaching an innings limit that would curb his usefulness down the stretch.
"There are a number of different considerations," Alderson said. "Ability is one of them, but not exclusively. There are innings limitations on some of our young guys who have risen through the system pretty quickly. There are roster issues. So these are different issues that we have to sort through."
Since debuting as a 20-year-old in 2010, Mejia has battled myriad arm injuries of various natures. He strained the rotator cuff in his right shoulder as a rookie, then underwent Tommy John surgery to replace a torn ligament in his elbow a year later. This spring, Mejia wrestled with a bout of right elbow tendinitis that sidelined him for more than a month. The ensuing examination revealed his bone chips.
Anthony DiComo is a reporter for MLB.com. Follow him on Twitter @AnthonyDicomo. This story was not subject to the approval of Major League Baseball or its clubs.