Mejia placed on DL, could have season-ending surgery
Mejia placed on DL, could have season-ending surgery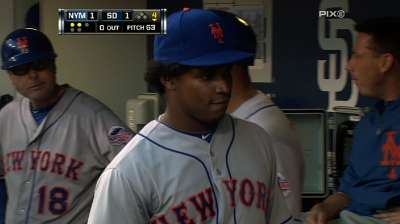 SAN DIEGO -- A day after Jenrry Mejia left Saturday's start with right elbow pain, the Mets placed him on the disabled list with a bone spur and recalled reliever Greg Burke from Triple-A Las Vegas. Though the Mets will not know more about Mejia's condition until he sees a doctor this week, there is a significant chance he will undergo season-ending elbow surgery.
"It certainly doesn't look very good," manager Terry Collins said.
Mejia's absence creates a troubling hole in the rotation for the Mets, who are running out of starting pitchers. Though the easiest solution would be to take advantage of Thursday's day off to use their four remaining starters on regular rest, the Mets were counting on that day to help limit the innings of young pitching Matt Harvey and Zack Wheeler.
"We're reaching the point where we've got to start to be pretty careful with those two young guys," Collins said. "We had scheduled for them to have that extra day since we're staying on a five-man [rotation]. Now I think a lot will be determined by what Matt does [Sunday], how far in the game he goes, how many pitches he throws. Do we want to bring him back on four days again? Because … the more you pitch him now, the less we're going to see him in September."
If the Mets do decide to give their pitchers an extra day of rest, they could slot swingman Carlos Torres into Mejia's rotation spot Friday against the Tigers. Or they could call up 25-year-old right-hander Jacob deGrom, who has been thriving at Las Vegas and would be on regular rest for that start. But deGrom is not currently on the 40-man roster and is running up against an innings limit of his own, making him a less-than-ideal solution.
The Mets will decide Monday, after seeing how Harvey comes out of his Sunday outing against the Padres.
As for Mejia, the 23-year-old pitched as well as the Mets could have hoped in five starts this year, compiling a 2.30 ERA, 27 strikeouts and four walks in 27 1/3 innings despite regular discomfort from the bone spurs in his elbow. According to Collins, Mejia pitched his way into serious consideration for next year's Opening Day rotation.
Former closer Frank Francisco's perpetual rehabilitation notwithstanding, elbow cleanup operations typically only require two to three months of recovery.
"He's certainly a guy that deserves a legitimate look," Collins said of Mejia. "He certainly threw well enough that if his arm's healthy -- and you know this guy, he'll be throwing in the Dominican before Spring Training -- he should be a guy in one of those top six or seven slots."
Anthony DiComo is a reporter for MLB.com. Follow him on Twitter @AnthonyDicomo This story was not subject to the approval of Major League Baseball or its clubs.