Buck in lineup for first time since d'Arnaud's arrival
Buck in lineup for first time since d'Arnaud's arrival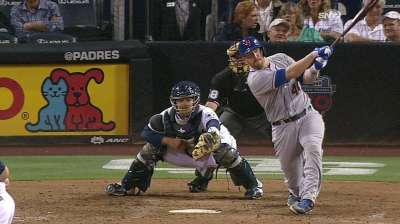 NEW YORK -- For the first time since Travis d'Arnaud's arrival, catcher John Buck was back in the starting lineup Wednesday afternoon against the Braves. It was an obvious spot for Mets manager Terry Collins to give Buck an opportunity -- a day game following a night game at Citi Field, with d'Arnaud having caught four consecutive games in three cities.
Going forward, Collins said "there is no ratio" for how often Buck will play -- only an expectation that he will see more regular time than former backup catcher Anthony Recker. Still, Collins has made it clear that d'Arnaud is the starter and will play most days.
"I've put some ideas down for me to kind of see a guideline of when we need to get John in there, and [I plan to] make sure Travis gets in there enough," Collins said. "We'll stick with this schedule and see how it works for a while."
Before d'Arnaud's arrival, Buck had started 94 of the Mets' 124 games, batting .219 with 15 homers and 60 RBIs overall.
Anthony DiComo is a reporter for MLB.com. Follow him on Twitter @AnthonyDicomo. This story was not subject to the approval of Major League Baseball or its clubs.