Duda recalled by Mets; Baxter optioned to 51s
Duda recalled by Mets; Baxter optioned to 51s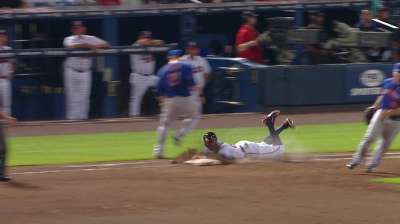 NEW YORK -- After spending six weeks on the disabled list and more than two weeks with Triple-A Las Vegas, Lucas Duda is back with the Mets.
The Mets announced Saturday that the first baseman was recalled from Las Vegas and would be on the bench for the team's game against the Tigers. Outfielder Mike Baxter was optioned to the 51s in a corresponding move.
"Any time you're in the big leagues, everything's good," Duda said. "I'm just glad to be back."
Duda was batting .235 with 11 home runs and 23 RBIs before suffering a strained left intercostal strain on June 22. Baxter batted .208 with four RBIs over 59 games with the Mets this season, and manager Terry Collins said they decided to option him so he could get more at-bats in the Minors.
"[General manager] Sandy [Alderson] told me the other day he was thinking about calling up Lucas Duda," Collins said. "He thought it would be good to get him up here. So I said, 'You're the boss, and if it's time to get him up here, we'll get him up here.'"
Duda was informed of the move after his game with the 51s on Friday night. He took a 7 a.m. flight Saturday morning and arrived at Citi Field in the fourth inning of the Mets' 3-0 loss to the Tigers.
The 27-year-old batted .306 with eight RBIs over 18 games with Las Vegas. Collins said Duda would play mostly first base in his second stint with the Mets this season, because he doesn't want to "disrupt what's going on in the outfield." Duda played 58 games in the outfield earlier this season, but he's been playing primarily at first in the Minors.
"He's going to play some first, we've got some games coming up shortly where we're going to have a DH, so he'll probably most likely get his bat in the lineup," Collins said. "I don't know how much he's going to play here or there. I'm not sure yet."
Josh Vitale is an associate reporter for MLB.com. This story was not subject to the approval of Major League Baseball or its clubs.