Injured Harvey consults with 'Doc' Halladay
Injured Harvey consults with 'Doc' Halladay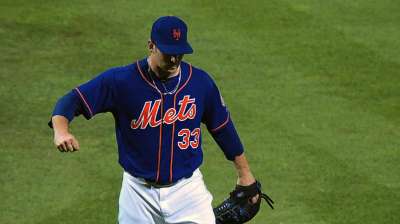 NEW YORK -- On his mission to find a non-surgical alternative for the partially torn UCL in his right elbow, Matt Harvey is seeking wisdom from every corner of the baseball world.
That quest on Tuesday took him to two-time Cy Young Award winner Roy Halladay, now of the Phillies, one of several prominent players to pitch through unresolved arm issues in the past. At the request of Mets manager Terry Collins, Halladay told Harvey that he suffered flexor pronator damage in his forearm around 2006, and never had it repaired.
Shortly after that conversation, Harvey published his now-infamous tweet that he "will be back next year for April 1."
"I just shared that with him and what I went through," Halladay said. "[Dr. James] Andrews had told me that [he] felt like at some point they'd have to go in and repair it. That was eight years ago and I've never had an issue since."
Harvey declined to talk about his discussion with Halladay, referring reporters to the press conference he held earlier this week. But it is likely that through his research, he also learned that Halladay's story is the exception, not the rule. Baseball's recent history is littered with examples of players who tried to pitch through partial ligament tears, only to succumb later to Tommy John surgery.
One unique case is that of Cardinals pitcher Adam Wainwright, who partially tore the UCL in his right elbow as a Minor Leaguer in 2004. Seven years later, after non-surgically rehabbing his elbow and nearly winning a pair of Cy Young Awards, Wainwright finally tore the ligament fully and underwent surgery.
"You don't want to say, 'It's just a matter of time,' because you never know," Wainwright said. "[Harvey] could pitch 12 more years and be fine. That would be a great career. He could also pitch again and never have another pain in his elbow. It can happen. It's just rare. Most of the time it leads to something more."
Wainwright referenced former Cardinals teammate Alan Benes as another example of a pitcher who successfully pitched through a partially torn UCL -- in Benes' case, for the entirety of his big league career. But Benes cautioned that he will never know if doing so caused him to compensate, resulting in the spate of shoulder troubles that ultimately ended his career.
"There could be correlation," Benes said in a telephone interview. "There could have been some compensation, but I don't know. The scary part about pitching through [injury] is that as soon as you start to alter your mechanics at all, you put yourself at risk to injure something else."
What's clear is that Harvey's ability to pitch through a partial UCL tear will depend in large part upon the severity of the tear -- something doctors will not be able to determine until the swelling in the area subsides. The Mets have outlined a vague timetable for that, saying only that Harvey will make a decision over the next few weeks.
"You just hope once the inflammation goes down they get a chance to look at it," Halladay said, "and it's not something they have to fix."
Anthony DiComo is a reporter for MLB.com. Follow him on Twitter @AnthonyDicomo. Chris Iseman is an associate reporter for MLB.com. This story was not subject to the approval of Major League Baseball or its clubs.