Brown playing every day as Mets ride hot bat
Brown playing every day as Mets ride hot bat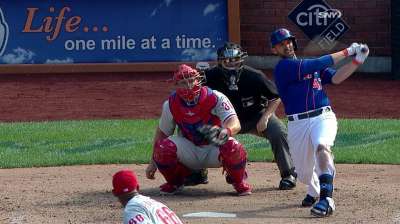 WASHINGTON -- Mets outfielder Andrew Brown made his fifth consecutive start in Friday's series opener against the Nationals, as his hot bat has earned him regular playing time in the wake of Marlon Byrd's trade to Pittsburgh.
In his last 12 games entering Friday, including seven starts, Brown has gone 13-for-34 (.382) with three doubles, two home runs and 10 RBIs. In 109 plate appearances for the Mets, he has posted a batting line of .280/.327/.480 with five homers and 18 RBIs. Brown has hit left-handers for an .847 OPS but has a .764 mark against righties.
"We know he's got a chance to hit," Mets manager Terry Collins said. "When we first brought him up, I got a report that said, because he's had a history of hitting lefties ... 'Don't be afraid to leave him in there against righties, because he can hit righties also.' So right now, he's swinging the bat great, he's driving in runs, it's still important to score, so we're gonna leave him where he's hitting and try to get him in as many games as we can."
Brown will not necessarily play every day for the remainder of the season. Rookie Matt den Dekker, recently called up from Triple-A Las Vegas, is a left-handed hitter who figures to take some starts in right field. He also could play center, with Juan Lagares moving to right. Collins said he wants to get both of those players in the outfield at the same time.
But for now, Collins wants to ride the hot hand.
"Since Marlon's gone, [Brown has] been getting to play regular, but he was swinging good before he got in the lineup as an everyday guy," Collins said. "When Marlon left, because he had driven in some runs off the bench, I just said, 'I'm gonna put him in there, because right now, he's got the knack for driving a run in.'"
Brown, who will turn 29 on Sept. 10, has not enjoyed many opportunities for regular big league playing time. He has logged 257 plate appearances over parts of the last three seasons with the Cardinals, Rockies and Mets.
Andrew Simon is a reporter for MLB.com. Follow him on Twitter @HitTheCutoff. This story was not subject to the approval of Major League Baseball or its clubs.