Goodwin helping Mets improve in key areas
Goodwin helping Mets improve in key areas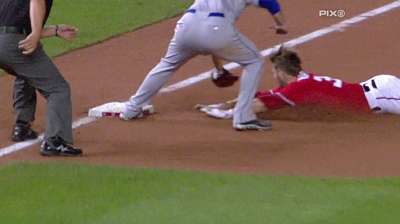 WASHINGTON -- Two of the areas in which the Mets have made great strides this season are baserunning and outfield defense. Coincidence or not, Tom Goodwin is in charge of both.
Goodwin, also in his second year as the Mets' first-base coach, twice earned praise from manager Terry Collins on Friday. Before the team's series opener against the Nationals, Collins credited Goodwin for his work with the outfielders, particularly for helping them rack up the fourth-highest total of assists in the Majors. After a key play on the bases by Daniel Murphy lifted the Mets to a 3-2 win, Collins said Goodwin "has done an outstanding job" instilling aggressiveness in what has become the league's top baserunning team.
"He's all about comfort," left fielder Eric Young Jr. said of Goodwin, who came up with Young's father in the Dodgers' organization. "He tries to find out what a guy's comfort level is and really try to utilize that. He doesn't necessarily try to change anybody, me or the other outfielders, just tries to find out what you're comfortable doing and works from there to make it all jump."
Goodwin, a speedster who played 14 big league seasons, mostly passed off credit to the players and the rest of the coaching staff. He especially credited Collins for fostering the aggressive approach and letting the coaches and players have the freedom to do their jobs. And certainly, New York's shifting personnel has helped, especially the additions of Young and Juan Lagares.
But the change has been dramatic. The Mets lead the Majors with 17.8 baserunning runs above average, more than three runs better than any other team, according to FanGraphs.com. Last year they ranked 18th at minus 3.0. They also have the league's best rate of extra bases taken, at 46 percent.
Goodwin has kept the players engaged with a game in which they accumulate points for taking extra bases. There's a winner each month, with mostly clubhouse bragging rights at stake.
"There's no magic potion you can put on guys," Goodwin said. "It's just to continually bring it up in a way where it's not annoying, where guys aren't like, 'Oh no, there comes Goody again to talk about baserunning or outfield play or something like that.' You just try to make it a fun thing and the guys have taken to it, as far as the baserunning goes."
In the outfield, the Mets have gone from last in the Majors in FanGraphs' all-encompassing Ultimate Zone Rating statistic to 11th in one season. Their throwing has been a major contributing factor, with Lagares' 12 assists leading the way. On Saturday, his strike to the relay man Murphy helped nail Bryce Harper as he tried to stretch a double into a triple, and it pulled Lagares into a tie with Tsuyoshi Shinjo for the club's rookie record.
Goodwin didn't have a big arm as a player, so he has preached the importance of making low throws that can be cut off if necessary.
"If it's down and we can get him at home, that's fine," Goodwin said. "But we always give our pitchers a chance to get two outs with one pitch, so we're always trying to stop that guy from running to second."
Andrew Simon is a reporter for MLB.com. Follow him on Twitter @HitTheCutoff. This story was not subject to the approval of Major League Baseball or its clubs.