Wright to continue rehab with Mets in New York
Wright to continue rehab with Mets in New York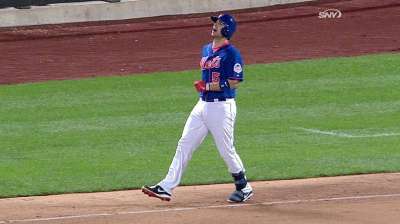 CLEVELAND -- David Wright chose to take his rehab to Port St. Lucie, Fla., partly in order to face live pitching. As it turned out, none of the hurlers there are doing any hurling.
That's what Mets manager Terry Collins said on Saturday, before informing reporters that Wright was headed back to New York and would see the team after the current road trip wraps up on Sunday. Though Collins said Wright was having a "a little bit of a rough time" in Florida, he was emphatic in communicating that there have been no setbacks with Wright's strained right hamstring.
"He's not getting done what we hoped he would, so he can do it with us," Collins said. "He'll come up and do what he was going to do down there. We certainly have people who can do the running progression with him and we've got plenty of arms to throw BP and get the ground balls. He might as well do it with us, so we can keep a better eye on him."
Wright, 30, went on the 15-day disabled list on Aug. 3. In 105 games this season, the seven-time All-Star is batting .309/.391/.512 with 16 home runs and 54 RBIs. He also has 17 stolen bases in 20 attempts.
The season is over for high Class A St. Lucie, and Collins said the organization's pitchers who are there are hurt, making it fairly difficult for Wright to see the live pitching he sought. Also, Collins said a few members of the Mets' medical staff there are dealing with health issues of their own, so one trainer has been forced to treat 12 or 13 guys, in the manager's estimation.
"I talked to David two days ago. He feels great. He just said, 'Look, there's nobody here to face,'" Collins said. "We need to get him up to where he can get some treatment done."
Mark Emery is an associate reporter for MLB.com. This story was not subject to the approval of Major League Baseball or its clubs.