Mets pay tribute to first responders on 9/11
Mets pay tribute to first responders on 9/11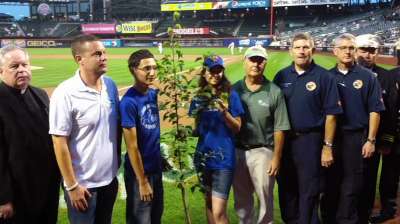 NEW YORK -- When the Mets walked into their clubhouse at Citi Field on Wednesday, each player had a meaningful hat hanging in his locker. During batting practice on the 12th anniversary of the tragic events of Sept. 11, 2001, the Mets honored the New York City First Responders by wearing initialed hats representing the city's agencies.
"It's one of those dates in history where you're always going to know where you were, and you're going to remember what you felt like," Mets manager Terry Collins said. "As you go through life and you look back upon at a lot of things, a lot of times you don't really know how you felt. You'll always know how you felt on 9/11."
The Mets hosted several tributes in honor of 9/11 before and during their game against the Nationals on Wednesday.
Lee Ielpi, the president of the September 11 Families Association and co-founder of the 9/11 Tribute Center, threw out the ceremonial first pitch. Ielpi is also a retired member of the FDNY. His son, Jonathan, was a member of FDNY Squad 288, Hazmat 1, and was killed at the World Trade Center.
Mets pitcher Dillon Gee, whose father Kevin is a firefighter in Fort Worth, Texas, caught the first pitch. About 40 members from Squad 288, Hazmat 1 were at Citi Field on Wednesday.
Alyssa Curcio, the daughter of an officer with the Department of Corrections who was one of the first responders and continues to work for the DOC, sang the National Anthem.
The Mets also asked Regina Wilson, a member of the FDNY, to sing God Bless America during the middle of the seventh inning.
Players from both the Mets and Nationals hosted a meet-and-greet with families from Tuesday's Children, a non-profit organization committed to all children and individuals directly affected by the events of 9/11.
Mets pitchers Gee and Tim Byrdak represented the 9/11 Tribute Center as a part of Cantor Fitzgerald's annual Charity Day. Former Mets closer John Franco was also on hand to raise funds for Tuesday's Children.
During a pregame ceremony, a seedling from a survivor tree from the World Trade Center was donated to three communities that have overcome tragedy. Representatives from the Rockaways, which overcame Superstorm Sandy, Prescott, Ariz., which suffered the loss of 19 firefighters in the Yarnell Hill Fire, and Boston, which suffered the Boston Marathon bombings, were present at the ceremony.
Since becoming the Mets' manager before the 2011 season, Collins said he's become friends with police officers from his local NYPD precinct and understands how dedicated they are to their jobs.
That tragic day 12 years ago is one he and his players continue to remember.
"It's always going to have a great meaning," Collins said. "Our guys are all old enough that they still remember where they were too."
Anthony DiComo is a reporter for MLB.com. Follow him on Twitter @AnthonyDicomo. Chris Iseman is an associate reporter for MLB.com. This story was not subject to the approval of Major League Baseball or its clubs.