Mets to scale back to five-man rotation
Mets to scale back to five-man rotation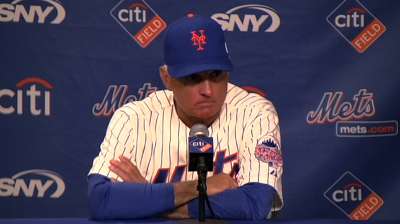 NEW YORK -- With a doubleheader against the Marlins on Saturday, the Mets currently have six starters. But manager Terry Collins said they will likely go back to a five-man rotation for the final couple weeks of the season.
That means one of the starters will go to the bullpen, and when the Mets shut down Zack Wheeler once he reaches his innings limit, they'll bring that pitcher back to the rotation.
"Certainly, we're benefited by the day off on Monday to where guys will have an extra day. I think that we probably will not just stay with a six-man [rotation]," Collins said, "We'll probably go with five until we think Zack's had enough, and then have whoever [was moved to the bullpen] pitch in that spot."
Collins said Carlos Torres, who's already spent time as a reliever this season, isn't necessarily the pitcher that would go back to the bullpen. The Mets have signed a couple of veteran starters within the next month, adding Daisuke Matsuzaka and Aaron Harang.
Chris Iseman is an associate reporter for MLB.com. This story was not subject to the approval of Major League Baseball or its clubs.