Murphy's stat line steady despite turmoil around him
Murphy's stat line steady despite turmoil around him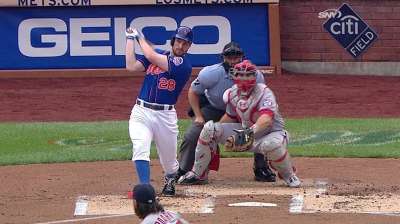 NEW YORK -- Throughout this summer, whenever Daniel Murphy hit one of his rough patches at the plate, Mets manager Terry Collins fell back on a familiar line of thinking. At the end of the year, Collins liked to say, he would look up to see Murphy's typical stat line flashing across the scoreboard.
At times, a return to those numbers seemed unlikely. Even Murphy admits that. But with 16 games to go, after the second baseman went 1-for-4 in Friday's 4-3 win over the Marlins, Murphy is batting .281 with a .315 on-base percentage and a .404 slugging mark. His fourth-inning single gave him a career-high 167 hits on the year, one more than last season in 11 fewer games.
Last season, Murphy hit .291, reached base at a .332 clip and slugged .405. Though Murphy's counting stats are higher this year across the board, including 10 home runs, a career-high 68 RBIs and 83 runs, his walk rate is at an all-time low.
"I need to walk more, there's no doubt about that," Murphy said. "I want to get on base as much as the next guy, but I also tend to like to swing the bat. I just need to be more disciplined."
The question is whether Murphy has done enough to warrant what is sure to be a significant arbitration raise over the $2.9 million he made this season. Though Murphy has undoubtedly improved defensively at second base over the past few years, the Mets know he will never be an elite glove man. So it is critical he remains productive at the plate.
Collins, for his part, called Murphy his team's "backbone," with David Wright on the disabled list. With virtually no protection around him in the lineup, Murphy has maintained a consistent stat line in Wright's absence: .291/.321/.404 in 37 games entering Friday.
Aside from that, Collins noted, much of Murphy's value stems from his durability -- the same quality that will undoubtedly prompt the Mets slot him in at second base next season. Perhaps not an ideal solution at that position -- Wilmer Flores is the most intriguing in-house alternative -- Murphy nonetheless represents stability on a roster that is very much in flux.
"You always want to be a part of the solution going forward," Murphy said. "If you're around here for the lean times, you want to be around here when times get good."
Anthony DiComo is a reporter for MLB.com. Follow him on Twitter @AnthonyDicomo. Chris Iseman is an associate reporter for MLB.com. This story was not subject to the approval of Major League Baseball or its clubs.