Black pitching in more late-game situations
Black pitching in more late-game situations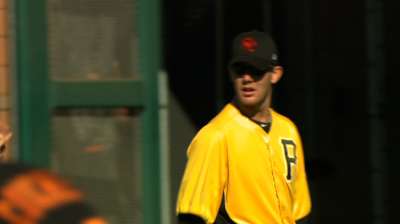 NEW YORK -- Vic Black was somewhat of an unknown when he was traded to the Mets as the player to be named in the deal that sent Marlon Byrd and John Buck to Pittsburgh. Black had only pitched in three Major League games, having spent almost all of the last five seasons in the Minor Leagues.
Since joining New York on Aug. 29, the right-hander has worked his way into critical late-game situations, including a spotless 12th in Sunday's 1-0 win over the Marlins to earn his first Major League win.
"I really like the guy and I really like his stuff," Mets manager Terry Collins said. "I've been wanting to see him in the eighth inning in some big situations against some middle-of-the-lineup guys."
With the Mets holding a two-run lead with one out in the eighth inning of Game 2 of Saturday's doubleheader, Collins brought Black in to finish the inning. He struck out Miami pinch-hitter Christian Yelich, allowed a single to Donovan Solano, but then struck out Justin Ruggiano to end the inning.
It was a key spot against a few of the Marlins' better hitters.
Black's eight appearances with the Mets this season haven't been sparkling. He's allowed three runs on seven hits over 6 1/3 innings. But the 25-year-old also has six strikeouts and just one walk.
"We know he's got a good arm. One of the things we're seeing is we're seeing some strikes," Collins said. "For the most part, when he needs to make a pitch, it's been down."
When Bobby Parnell went on the disabled list with a herniated disk in his neck that ultimately required surgery, LaTroy Hawkins slid out of the eight-inning role and became the Mets' closer. Collins has gone to David Aardsma in the eighth at times, but he's also seeing he now has Black as a reliable option.
"He's been very effective," Collins said.
Chris Iseman is an associate reporter for MLB.com. This story was not subject to the approval of Major League Baseball or its clubs.