d'Arnaud exits following foul off right shoulder
d'Arnaud exits following foul off right shoulder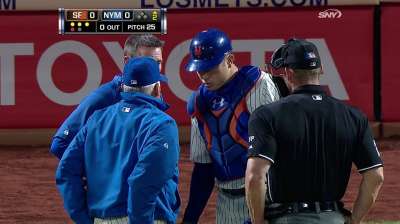 NEW YORK -- Mets catcher Travis d'Arnaud left Tuesday's game after three innings with a sore right shoulder, shortly after taking a foul tip off his arm.
Leading off the second inning, Giants outfielder Hunter Pence fouled a 3-0 fastball straight back, striking d'Arnaud in the shoulder. The rookie catcher stayed in the game for another two innings, but did not come back out on defense for the top of the fourth. Anthony Recker replaced him behind the plate.
"It smoked me in the shoulder and then as the game progressed, it just started tightening up a lot," d'Arnaud said. "It was messing with my throwing and everything. I wanted it to loosen up, but it just wouldn't."
In recent days, Mets manager Terry Collins has commented on the inordinate amount of foul tips d'Arnaud has taken off his body and facemask. d'Arnaud, who was 0-for-1 in the game, is batting .167 with one home run in 78 at-bats. He hit a walk-off single in Sunday's 1-0 win over the Marlins, good for his fourth RBI in 23 games.
"He'll be fine in a couple days, I'd think," manager Terry Collins said.
Anthony DiComo is a reporter for MLB.com. Follow him on Twitter @AnthonyDicomo. Chris Iseman is an associate reporter for MLB.com. This story was not subject to the approval of Major League Baseball or its clubs.