Collins isn't asking d'Arnaud to alter proximity to plate
Collins isn't asking d'Arnaud to alter proximity to plate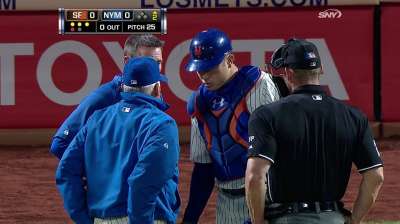 NEW YORK -- Travis d'Arnaud cannot remember most of the foul tips and backswings that have clipped his catcher's gear in recent days. All he knows is that over the past week and a half, he has endured more sharp pains and bruises than he can ever recall in his life behind the plate.
"It's all just randomness, part of catching," d'Arnaud said Wednesday, one day after a foul tip careened off his right shoulder and knocked him out of a game against the Giants. D'Arnaud was out of the lineup again the following night, with Juan Centeno catching in his place. "Just luck of the draw I guess."
Manager Terry Collins does not consider it so random, saying d'Arnaud is more susceptible to backswings because of how close to the plate he sets up in his crouch. The upside of that setup, Collins said, is that d'Arnaud is better able to show off the pitch-framing skills for which he is rapidly becoming known.
"On the dark side of it, he's getting hit with some backswings," Collins said. "So you worry about it a little bit if there's some injuries that are going to occur, but right now, he's been fine with it."
Though d'Arnaud's brief career has already been derailed by several major injuries, including a foul tip that fractured a bone in his left foot earlier this season, Collins is not concerned with where his catcher sets up behind the plate.
"You're talking about inches," the manager said. "If a guy gets a lot of foul tips, he's too far back because the ball's going over his glove. If he's getting hit in the helmet with bats, you think he's too close. I talked to Travis about it and he said he's always been hit."
Anthony DiComo is a reporter for MLB.com. Follow him on Twitter @AnthonyDicomo. This story was not subject to the approval of Major League Baseball or its clubs.