Tejada breaks leg in collision with outfielder Brown
Tejada breaks leg in collision with outfielder Brown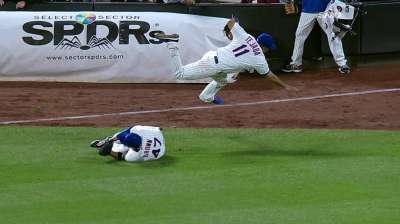 NEW YORK -- What was supposed to be Mets shortstop Ruben Tejada's breakout summer wound up being anything but. Struggling all year with injuries and inconsistency, Tejada saw his season come to a gruesome end Wednesday night, when he broke his right leg in a collision with outfielder Andrew Brown.
Racing back to chase an Angel Pagan popup with one out in the ninth, Tejada caught the ball as Brown slid feet-first in an attempt to avoid him. He could not, and Tejada tumbled head over heels after colliding with Brown's leg, breaking his fibula on the play.
"It makes me feel really horrible, to be honest with you," Brown said. "It's the last thing I want to do."
Initially, Tejada told Mets trainers he was fine, staying in the game to finish the inning. But an examination in the bottom of the ninth revealed the break.
Tejada, who was receiving treatment on his leg, was unavailable for comment.
The injury comes just as Tejada had a chance to play every day, trying to salvage something out of what had otherwise been a lost season. Entering this year as the Mets' unchallenged starting shortstop, Tejada slumped so badly over the first two months of the season that the Mets seriously considered demoting him by late May.
Because Tejada strained his right quad while Mets officials debated his fate, the team never had to make that decision. He missed two months recovering, and Omar Quintanilla passed him on the depth chart. Though Tejada eventually grew healthy and productive in the Minors, the Mets did not recall him until Sept. 10. Part of the reason, general manager Sandy Alderson admitted recently, was because of a perceived lack of work ethic.
"One of the problems with Tejada is it's like pulling teeth," Alderson said on WFAN. "It's extra batting practice, extra this, extra that -- it doesn't happen, necessarily, unless someone else is insisting on it. We need to see a commitment to improvement. He's going to have to earn it."
Tejada was in the early stages of doing so when he broke his leg. Learning of his shortstop's injury while standing in the dugout, Collins turned to bench coach Bob Geren and said simply: "What else can there be? Of course it's going to be broken."
"We'll have to pick up the pieces," Collins said. "You feel bad for Ruben, because he had something to really prove here in the last couple weeks, and now he's not going to get that chance."
Collins estimated that Tejada will need six to eight weeks to heal, which should give him plenty of time to rehab over the winter. But without an opportunity to gain favor with the organization over the season's final two weeks, Tejada will enter Spring Training unsure of his future. He hit just .202 in 57 games this season, and the Mets are rumored to be interested in acquiring a shortstop from outside the organization.
It is a similar situation to that of first baseman Ike Davis, who began re-establishing himself as an everyday player after the All-Star break, only to suffer a season-ending oblique strain late last month. Like Davis, Tejada will be eligible for salary arbitration this winter.
"Now he's going to be out obviously six to eight weeks," Collin said, "and he's going to have to really work hard this winter to get himself back into good shape."
Anthony DiComo is a reporter for MLB.com. Follow him on Twitter @AnthonyDicomo. This story was not subject to the approval of Major League Baseball or its clubs.