Tovar finds immediate success in big league debut
Tovar finds immediate success in big league debut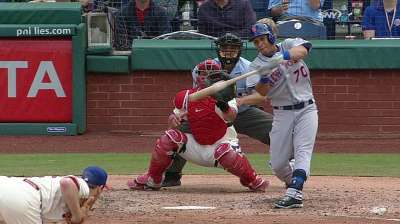 PHILADELPHIA -- Wilfredo Tovar made his Major League debut Sunday, batting eighth and playing shortstop -- and he put the Mets ahead with a single in the seventh as New York beat the Phillies, 4-3.
"I'm excited about this opportunity," Tovar said, with Binghamton Mets manager Pedro Lopez acting as interpreter. "I didn't expect to be here, and then to get the call and get a hit like I did, I just want to make the most of this. When I saw my name in the lineup, I just wanted to do whatever I could to get us a win."
With the Mets trailing 2-1 in the seventh, Juan Lagares started a rally with an infield single. Anthony Recker followed with a drive to right-center that seemed catchable but fell between Darin Ruf and center fielder Cesar Hernandez. That brought up Tovar, who drilled a single to left off Cliff Lee to score Lagares. When Phillies left fielder Domonic Brown bobbled the ball, Recker scored and Tovar hustled into second.
Tovar finished with two hits and played flawlessly in the field.
"I'm excited; it means a lot to be in this position," Tovar said. "As a kid, this is all I dreamed about. I feel fortunate to be here and have this chance."
Mets manager Terry Collins wanted to get him in a game as soon as possible, slotting Tovar in as soon as the Mets faced a left-handed starter. It happened to be Lee, who is one of the best in the game, which prompted Collins to joke before the game: "This is probably not the guy you want to face in your first game, but I'm sure he doesn't feel that way today."
Tovar was back home in Venezuela when he was added to the Mets' roster after Ruben Tejada broke his right fibula. He was called up Sept. 20, providing depth behind Omar Quintanilla.
"Omar has been very good for us," Collins said. "I actually wanted to play Tovar Friday [against Phillies lefty Cole Hamels]. But he'd just flown in from Venezuela, and that didn't seem fair. But we wanted to get him in there."
Kevin Roberts is a contributor to MLB.com. This story was not subject to the approval of Major League Baseball or its clubs.