d'Arnaud working with idol Piazza at camp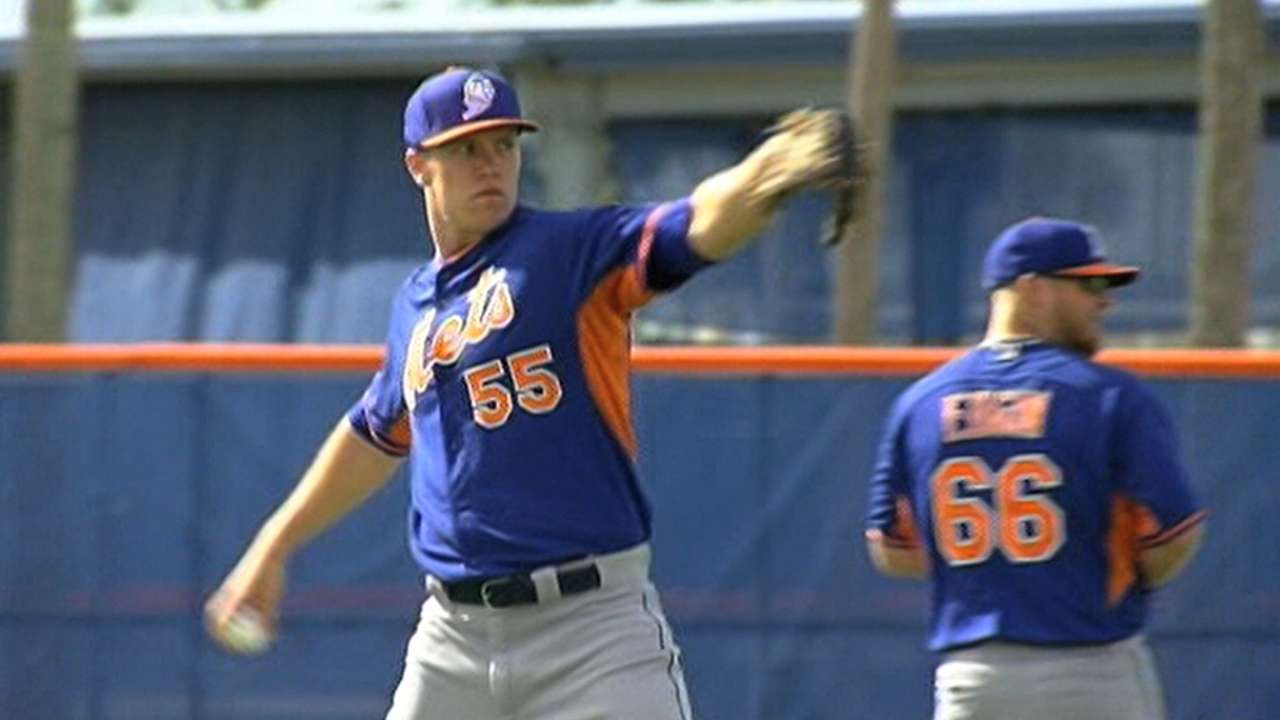 PORT ST. LUCIE, Fla. -- As an aspiring catcher growing up in Southern California, Travis d'Arnaud idolized former Dodgers star Mike Piazza, who went on to build the bulk of his Hall of Fame resume in New York. So when the Mets traded for d'Arnaud prior to last season, the catcher knew he would likely have a chance to meet his idol.
That dream reached another level on Monday, when Piazza reported to Mets camp as a special instructor. Piazza, who has spent the past few years working with the Italian national team during the World Baseball Classic and World Cup play, is scheduled to remain in Port St. Lucie all week, working one on one with d'Arnaud and other catchers.
"It's a dream," d'Arnaud said. "I loved how he hit and I loved how the pitchers loved throwing to him. So I tried to transform that into my game when I was a little kid."
d'Arnaud already profiles as a better defensive catcher than Piazza was as a player, but he struggled offensively during his big league debut last season. To that end, Piazza said he expects to do much of his coaching in the batting cage.
"For me, obviously, I was more of an offensive-oriented catcher," Piazza said. "But as a catcher you still can contribute in many ways to get the confidence of the pitching staff.
"No. 1 is just for [d'Arnaud] to stay healthy -- to take care of himself and be consistent, stay off the roller coaster which the game can be sometimes. You don't have to always go out there and get the big hit. You can go out and catch a good ballgame or block a pitch with the tying or winning run on third -- understanding behind the plate there's a lot you can do."
The two catchers had met before Monday, most notably during last year's Mets Hall of Fame induction at Citi Field. But Piazza's involvement in Mets affairs is a relatively new development. For years after his retirement, Piazza remained mostly away from the team. He recently has made more frequent public appearances, prompting chief operating officer Jeff Wilpon to invite him to camp this spring.
"It's fun to get back in the uniform and be around the clubhouse," Piazza said. "And I feel like I have a lot to teach. Obviously I feel like I got a lot out of my ability when I played. If I could just talk to some young guys and maybe help them advance their careers, it's very rewarding."
Anthony DiComo is a reporter for MLB.com. Follow him on Twitter @AnthonyDicomo. This story was not subject to the approval of Major League Baseball or its clubs.