Gee gearing for potential Opening Day assignment
Mets right-hander waiting for official announcement from manager Collins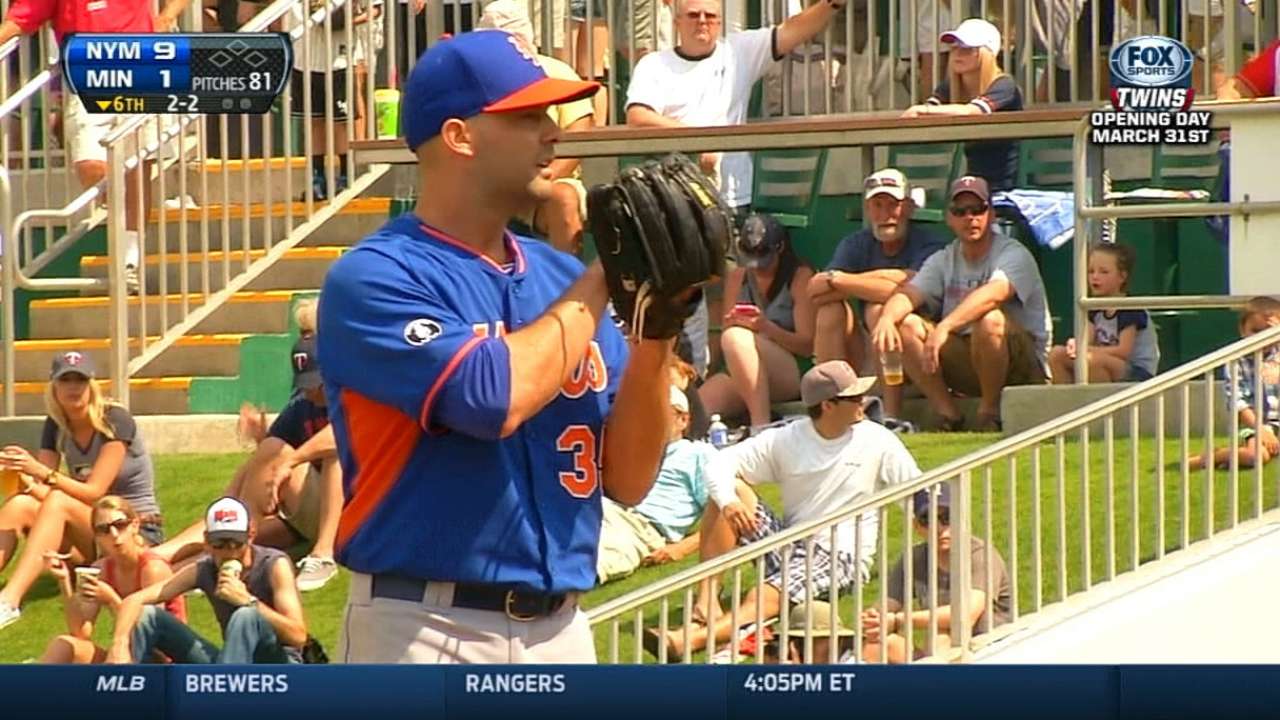 FORT MYERS, Fla. -- Although it has not officially been announced, all indications are that Mets right-hander Dillon Gee will be the Opening Day starter. While he's taking nothing for granted, Gee knows it would be a special assignment.
"Absolutely," Gee said on Friday afternoon, following the Mets' 9-1 win over the Twins at Hammond Stadium. "I don't know what starter wouldn't want to start Opening Day. That'd be a huge honor. But right now, I've got another start left [in Spring Training] and just want to make sure that I'm still polishing everything up [so I'm] ready to go whenever they tell me to."
In what should be his next-to-last spring outing, Gee was staked to a comfortable seven-run lead when he took the mound in the first inning against the Twins after the Mets sent 10 batters to the plate. Gee went 5 1/3 innings, giving up one run on five hits with no walks and four strikeouts. The Twins scored in the fourth when Joe Mauer led off with a single, went to third on Jason Kubel's single, and scored on Wilkin Ramirez's sacrifice fly.
"That was outstanding," Mets manager Terry Collins said. "Even the umpire said every pitch he threw was going one way or the other. So it's a great sign. He's felt great, he's looked great. It was a good day for him to get out there and get his work in."
Despite Gee's performance this spring -- and the fact that the season starts in 10 days, giving Gee a chance to make one more Spring Training start -- Collins replied "not yet" when asked if he was ready to reveal his Opening Day starter.
Including a March 10 'B' game against the Marlins, Gee has made four starts. The run he allowed to the Twins was the first he has given up since his first outing -- March 5, when he allowed one run over 2 1/3 innings to the Marlins. In all, Gee has pitched 14 2/3 innings this spring, giving up two runs on 16 hits with no walks and 12 strikeouts for a 1.69 ERA.
"I can't give up those free passes," Gee said. "That tends to lead to crooked numbers in innings. That's definitely a big deal for me and something I obviously keep an eye on. So, I'm happy I haven't given up any walks and hopefully we can continue that."
Being given such a comfortable cushion by the offense before throwing a first pitch can sometimes affect a pitcher's game plan.
"It can sometimes, but I try not to let it," Gee said. "They did an unbelievable job hitting today and put up a bunch of runs. Sometimes that can make you get a little bit lackadaisical out there as a starter knowing you have that big cushion. But I just try to be as aggressive as I'm always going to be. No matter what the score is, I try to pound strikes with all four pitches and that's what I tried to do today even with the big lead."
Gee said he is very close to being ready to start the season -- whichever day that may be.
"I think I'll be ready to start the season," he said. "I located well today with the fastball and the offspeed pitches. It was all pretty good for the most part. That's what I am and it's better now so I feel like I'm ready to go. Obviously, I work on stuff all year long, though. There's always stuff to work on. But as of right now, I feel pretty good."
Despite the lack of an official announcement, Gee has already been receiving congratulations from family and friends.
"Yeah, I'm still waiting on the final word and everybody's like, 'Congratulations,'" he said. "They're hearing the same thing. I tell them I haven't been told yet. I'll let you know when I do."
Maureen Mullen is a contributor to MLB.com. This story was not subject to the approval of Major League Baseball or its clubs.