Mejia in rotation; Dice-K 'shocked' by decision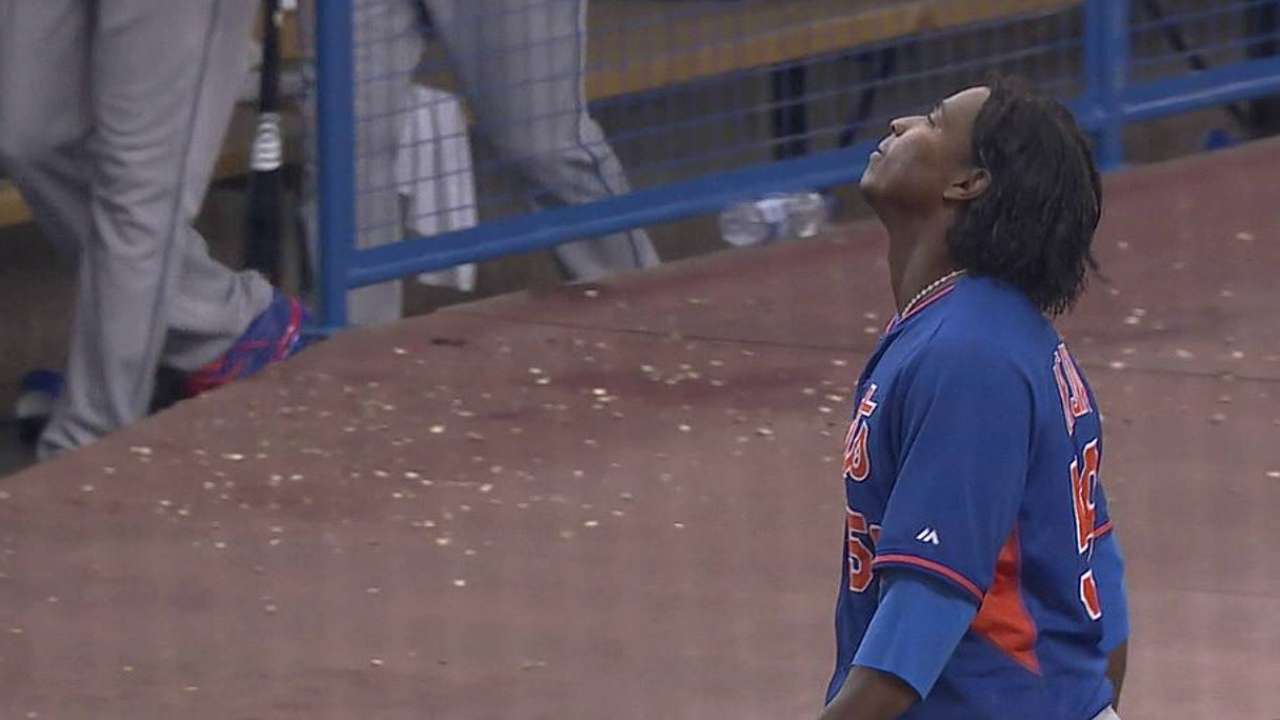 MONTREAL -- In a decision that "shocked" Daisuke Matsuzaka, the Mets on Saturday reassigned the veteran right-hander to Triple-A Las Vegas, adding Jenrry Mejia to their rotation despite multiple questions regarding his health.
Less than 24 hours after X-rays came back negative on Mejia's right forearm, the Mets slotted him in to pitch Friday against the Reds. If Mejia is not healthy enough to make that start, or if Jon Niese is not recovered enough from left elbow soreness to return from the disabled list on April 6, Matsuzaka will immediately slide back into the rotation.
But for now, at least, Matsuzaka is a Minor Leaguer despite his 3.04 ERA and 25 strikeouts in 23 2/3 spring innings, including eight whiffs over five shutout innings Saturday against the Blue Jays. The Mets paid Matsuzaka a $100,000 retention bonus last week, essentially purchasing the right to send him to Triple-A.
"I always knew there was a possibility that I would be going to the Minors," Matsuzaka said through his interpreter. "But I definitely am shocked at this decision."
The decision might have been more surprising had Mejia not also enjoyed a standout spring, striking out 13 batters over 13 1/3 innings with a 2.70 ERA. But Mejia has been dealing with a bunion on his right foot, as well as right forearm inflammation from the Ryan Goins comebacker that struck him in the fifth inning of Friday's exhibition game against the Blue Jays. Still, Mejia said he felt "pretty good" about the Mets' decision to keep him in the rotation.
Mets general manager Sandy Alderson admitted Saturday that Mejia may not be healthy enough to pitch Friday against the Reds, in which case Matsuzaka would be the leading candidate to replace him. But Alderson also indicated that Mejia will not simply be making a spot start as the Mets wait to see if Niese is fully healthy.
To the contrary, manager Terry Collins said he could envision a scenario in which Mejia remains in the rotation until around midseason, at which point the Mets convert him to relief work to limit his innings.
"I think a lot of that will be dictated by how he pitches and how his health is," Collins said. "If he goes out there, there's no reason why we can't get him to 100 innings or so -- not more -- so that takes us pretty deeply into midsummer. By then, if we think his innings are running out, hopefully by then some of those young guys will be ready."
Matsuzaka is not one of those "young guys" by any means. But given the lingering health issues of both Mejia and Niese, there is a reasonable chance he will be back with the Mets before the end of April, if not next week.
"He shouldn't be happy," Collins said. "He'd better not be. I'm sure he feels it was the wrong decision, and I certainly understand it because of the way he threw the baseball. But as I told him, we don't know what's going to happen the next few days. He'd better stay ready, and I know he will."
Anthony DiComo is a reporter for MLB.com. Follow him on Twitter @AnthonyDicomo. This story was not subject to the approval of Major League Baseball or its clubs.