Surprised Dice-K notches first career save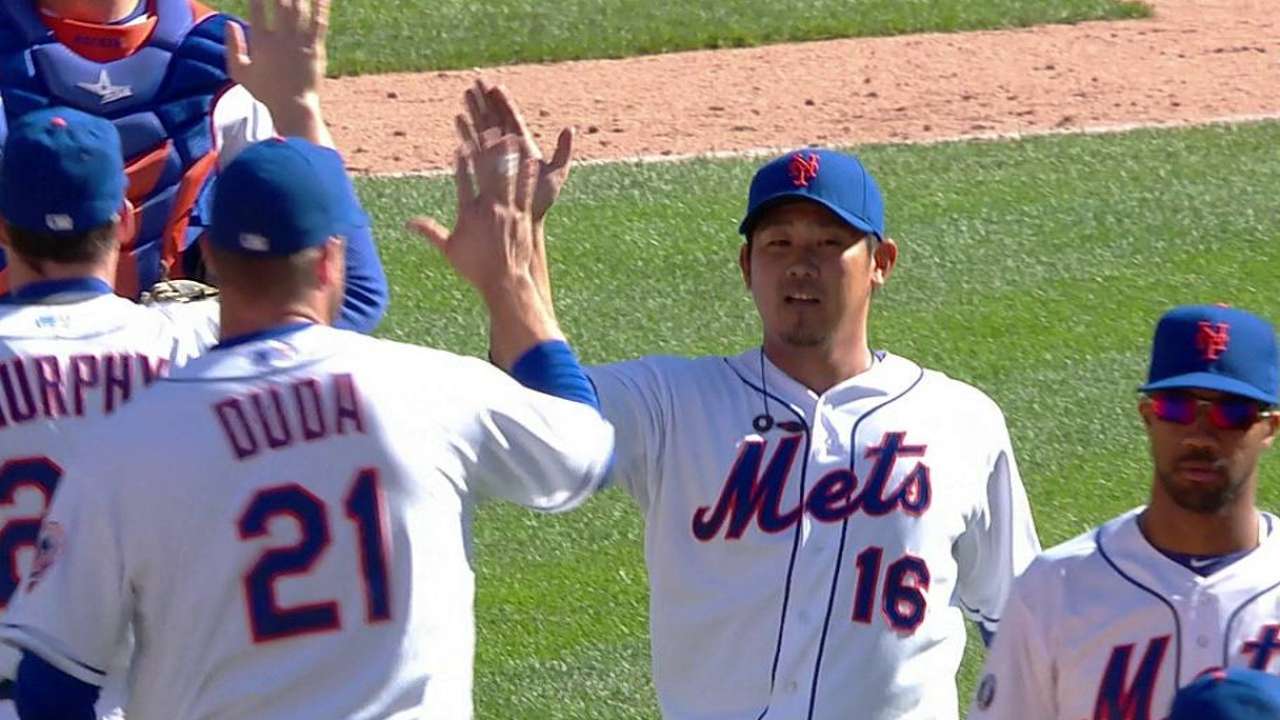 NEW YORK -- Daisuke Matsuzaka grinned Wednesday evening when asked if he would relish an opportunity to close games for the Mets. He appreciated the insinuation -- that manager Terry Collins had enough trust to consider him a late-game option. But with veteran closers Kyle Farnsworth and Jose Valverde on the roster, Matsuzaka said he did "not see that happening in the near future."
One day later, Collins surprised Matsuzaka with the first save opportunity of his career. With Farnsworth unavailable after appearing in three of the Mets' previous four games, Collins called down to Matsuzaka, who breezed through a 1-2-3 ninth to finish off a 4-1 win over the Cardinals.
"It couldn't have worked out better," Collins said. "I just wanted to get him used to it, because I don't know what's going to happen."
Farnsworth is still the Mets' closer, and will pitch most days when he is available. But because he is 38 years old, Collins understands the reality that there will be many nights when he is less than 100 percent.
With Valverde struggling and most of the Mets' other closer candidates -- Vic Black chief among them -- in the Minors, that means potential opportunities for Matsuzaka.
Prior to last weekend, Matsuzaka had pitched in relief just once in his big league career. He earned a single save with the Seibu Lions in Japan, otherwise spending most of his life as a starting pitcher.
The Mets started him out that way at Triple-A Las Vegas this season, but, needing bullpen help, converted Matsuzaka to relief last week. All he has done since is allow one run in 5 1/3 innings, striking out eight and walking two. If he was not thrilled with the role before, he rapidly seems to be growing comfortable in it.
"I wouldn't say I've enjoyed my time out of the bullpen," Matsuzaka said. "I'm still trying to figure things out by seeing how the game progresses and seeing where I might be called upon. I just have too much on my plate right now to enjoy the process."
Anthony DiComo is a reporter for MLB.com. Follow him on Twitter @AnthonyDicomo. This story was not subject to the approval of Major League Baseball or its clubs.