Granderson shows short memory is key with slumps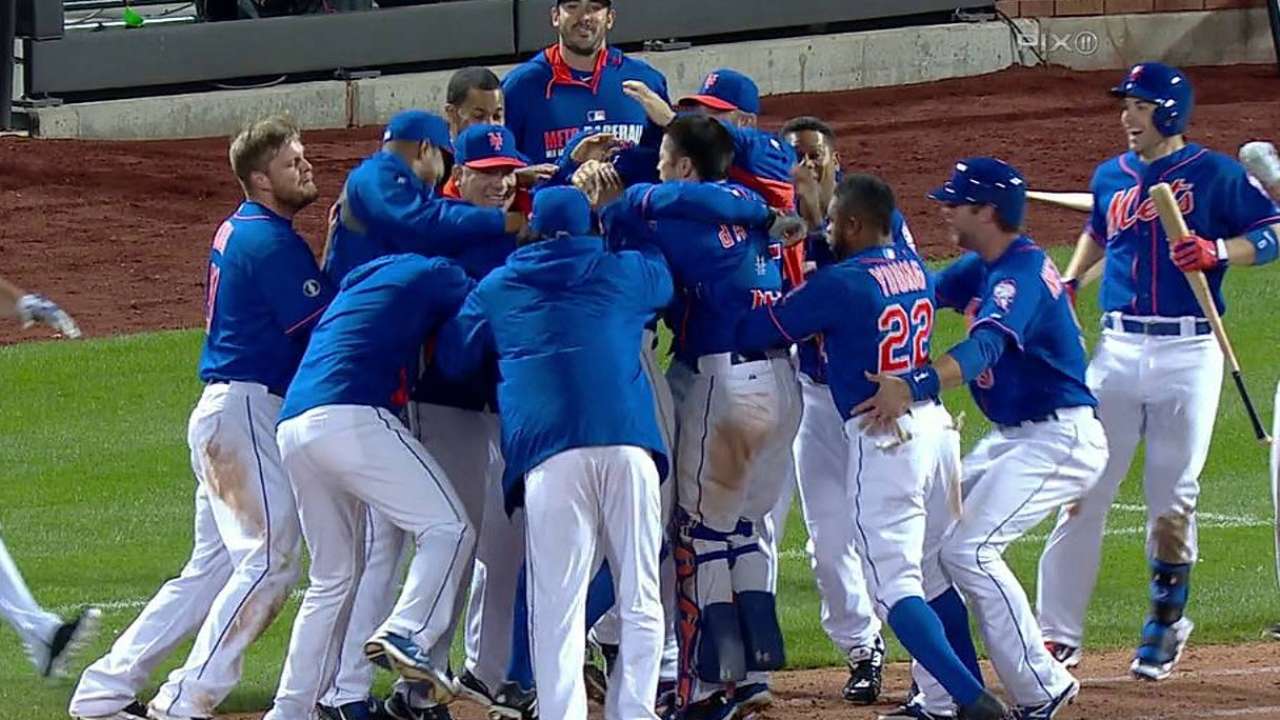 NEW YORK -- When you have started off .141 in your first 78 at-bats with your new team, amnesia is bliss.
"I honestly don't remember," Curtis Granderson, who made his first Mets start in center field on Saturday night, said when asked if he has any history of bad starts in his career. "I look at it as one month of the season."
"If the season ended April 31, I probably would have a better memory of that."
Let the record show that Granderson, the Mets' marquee free-agent signee -- and a .246 career hitter in March and April -- is not trying to reinvent himself in the batting cage, even if he did accidentally invent an extra day to a month other than February. Did Granderson, whose game-winning RBI single Friday night to beat the Marlins was his third hit in nine at-bats since ending an 0-for-22 stretch, blow away all his cares with one swing?
The first game-winner Granderson had this season, a sacrifice fly against Atlanta on April 20, preceded the 0-for-22. This may be the first time he has moved to a new team with a big new contract, but after three years with the Yankees, this is not his first rodeo with New York and its relentless expectations. Granderson insists he has not been putting extra pressure on himself, only taking it one at-bat at a time.
"Each day is a step forward," he said. "But it could be a long ways away still, because you never want to peak too soon.
"We have a lot of baseball left to play; we are not even through April. You want to get hotter and hotter as the season goes along."
"I have had 0-for stretches before. It's obviously not the best thing, but it's not the end of the world. You take as much positive from it as you can.
"0-for-22 or 22-for-22, you just have to forget about it. I think having done it before makes you realize it is going to turn.
"I just continue to work with [batting coach Dave Hudgens] in the cage, making sure I'm not moving too much in the entire body in the batting cage. Attacking the ball in the zone, [rather than] expanding too much and chasing.
"When you are going badly, you feel like you are covering a lot of things and you try to expand a little bit one way or another. And obviously when you are going good, you tend not to. You try to keep everything similar in that you know which pitches you can handle and then go after those.
"When you don't have things going the way they are, you just try to cover everything because you want to get hits as soon as possible, you are swinging at pitchers' pitches, not the one you want to hit."
Whether the balls he has hit so far are landing in the second baseman's glove or on the outfield grass, the unfailingly polite and positive Granderson nevertheless is an early hit with his new teammates.
"He is such a good guy, such a friendly guy, very outgoing in the clubhouse," said manager Terry Collins. "The guy is as genuine as they come, and therefore his teammates root for him.
"He has been as [well] received as any player I ever have been around in a clubhouse."
Jay Greenberg is a contributor to MLB.com. This story was not subject to the approval of Major League Baseball or its clubs.