Confidence at plate rising for d'Arnaud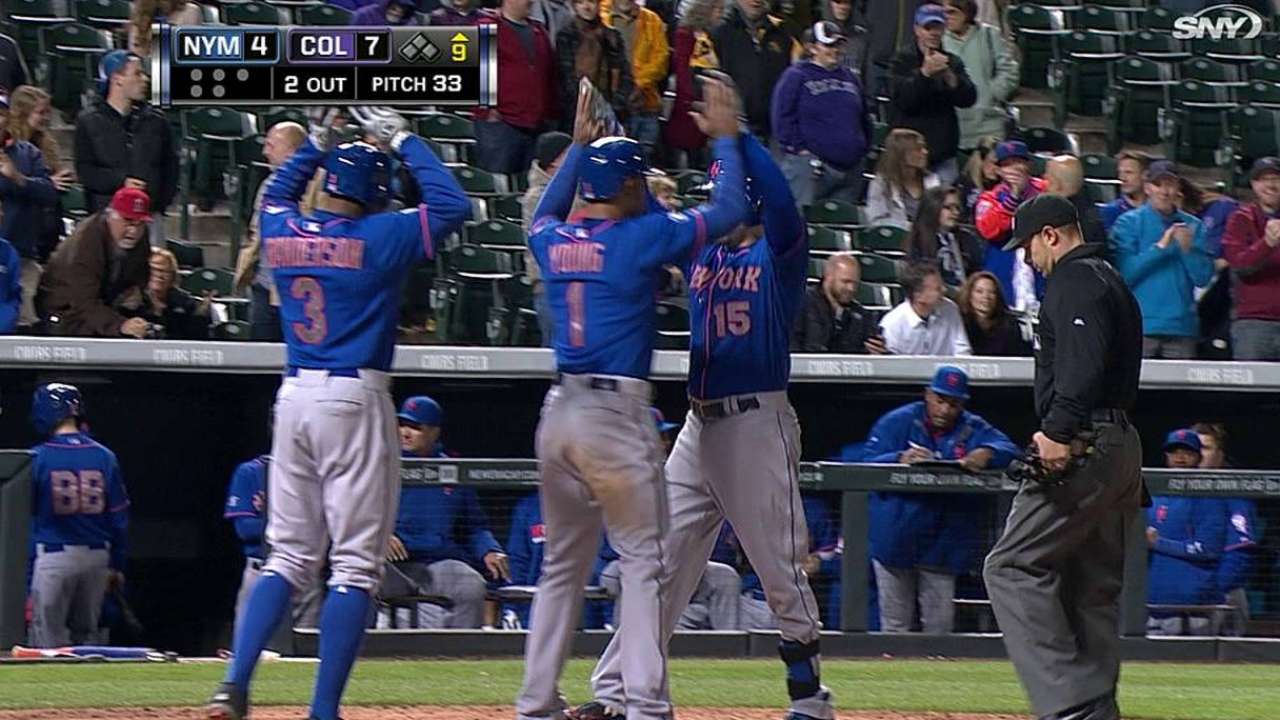 DENVER -- The box scores don't tell the whole story for Travis d'Arnaud. On paper, he looks slightly improved at the plate since his freshman campaign of 2013, when he hit .202 with a homer and five RBIs in 31 games.
In just 22 games this season, he's improved to .211 (15-for-71) with two home runs and seven RBIs. And after starting the season hitless in his first five games, he's hitting .268 (15-for-56) over his last nine entering Friday.
But on the field and in the dugout, his teammates and his manager see something that doesn't get measured in baseball metrics.
"His approach leads to confidence," manager Terry Collins said. "He's using the field to hit, not trying to do anything special. The at-bats at home, I thought he used the middle of the field better. [Thursday] night I thought he took a good swing at a pitch that you've got to take a good swing at. When you see the replays, it's a ball you got to hit hard, and he hit it hard."
d'Arnaud's three-run homer to center in the top of the ninth inning brought the Mets back in the game after being shutout for seven innings and getting a lone run across in the eighth.
"I'm just waiting for a pitch I can handle," d'Arnaud said of his big fly. "Trusting the process. Trusting working with [hitting coach Dave Hudgens] every day. Just going out there and trying to put it on the field."
Collins attributes d'Arnaud's new-found confidence at the plate to his established confidence behind the plate.
"When he first got here last year, he wanted to prove that he was an outstanding defensive catcher," Collins said. "That was his goal. Now he's accomplished that and it's about trying to make his offense a part of his game. I still talk to scouts today that say, 'This guy's going to hit.' I keep putting his name in the lineup and try to build up that confidence."
Owen Perkins is a contributor to MLB.com. This story was not subject to the approval of Major League Baseball or its clubs.