Age-defying Abreu's role has grown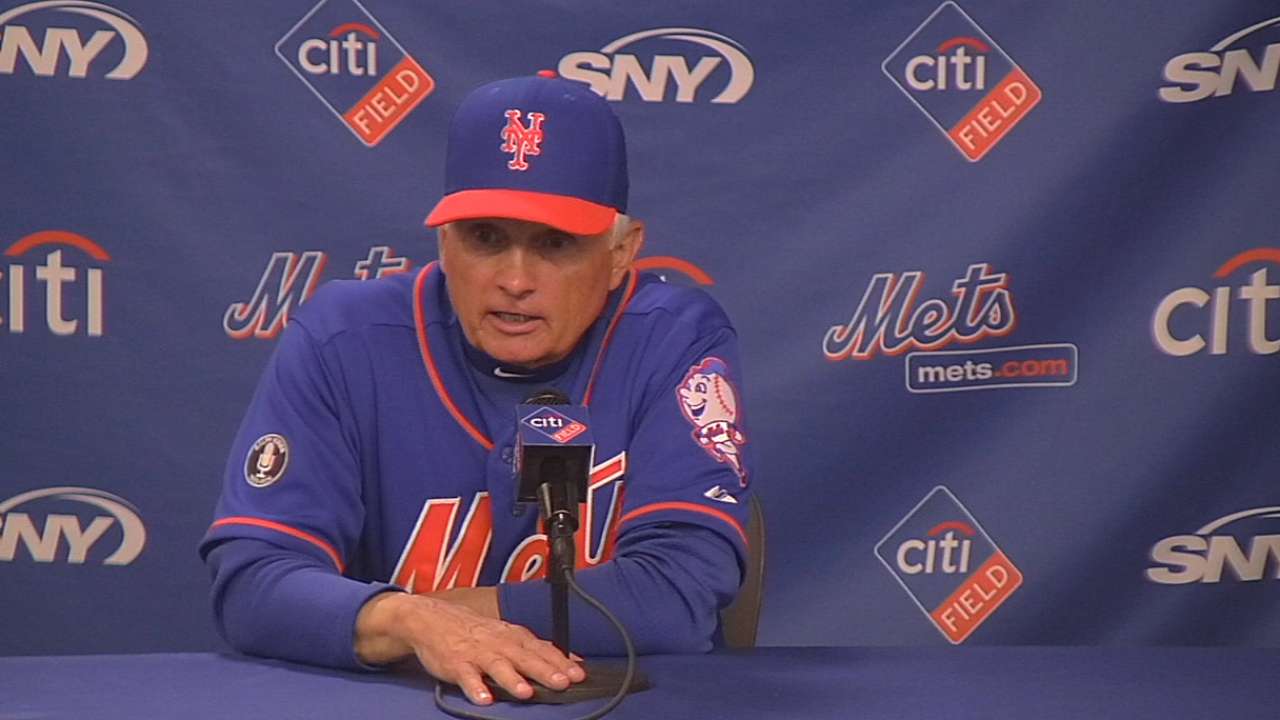 NEW YORK -- When Bobby Abreu signed a Minor League contract with the Mets at the end of March, then got the callup to the bigs three weeks later, his role was clear -- regular pinch-hitter, occasional outfielder and mentor to his younger teammates -- especially given that he lockers next to Wilmer Flores and Ruben Tejada.
Abreu, however, has played his way into a much larger role, especially this week with fellow corner outfielder Curtis Granderson nursing a tight left calf. He found himself batting cleanup in the Mets' lineup Saturday afternoon against the Padres, Abreu's fourth straight start and second consecutive appearance in the four-hole. It's the first time he's started four games in a row since May 2012.
Like many of his teammates on Saturday, Abreu went hitless against the Padres in a 5-0 loss. He did manage to reach base on a walk against rookie hurler Jesse Hahn.
But the hitless game came after Abreu's 4-for-4 Friday night -- manager Terry Collins hardly had a choice but to ride his veteran. On the season, Abreu is batting .328/.403/.508 against right-handers, with nine walks compared to six strikeouts. Collins admitted Friday that Abreu is essentially forcing his way into the lineup, particularly when the Mets face righties.
But the splits aren't all that bad. Abreu has managed a .273 average (3-for-11) against southpaws this season, including an RBI base knock Friday against left-hander Troy Patton.
"One of the things you see from Bobby -- and I'll go back to when they brought the lefty in to face him -- what did he do?" Collins said. "He worked to the middle of the field. We've talked about it and talked about it and talked about it. He worked the middle of the field, he hit a ground ball through a drawn-in infield that turns out to be a big hit. That's the thing I hope our young players watch."
Despite Abreu's .373/.424/.569 slash line as a starter, he can't play every day. He is 40, after all, and Collins is well aware of the importance of monitoring Abreu's playing time. The two have an understanding: Collins will write his name in the lineup, but if it starts to take a toll on Abreu, he needs to say so.
"I know leg injuries," Collins said. "If they come to him, they're going to be an issue. He told me he'd be honest, if he started to get tired or his legs started to get a little run down, he'd say something."
Abreu, for his part, says he feels fine.
"I take care of myself," Abreu said. "No doubt we have some young guys that have to play every day, and I know my job over here is to be a pinch-hitter and once in a while in the outfield. Any time they need me there, I'm always going to be ready."
Tim Healey is an associate reporter for MLB.com. This story was not subject to the approval of Major League Baseball or its clubs.