Colon doubles for first hit since 2005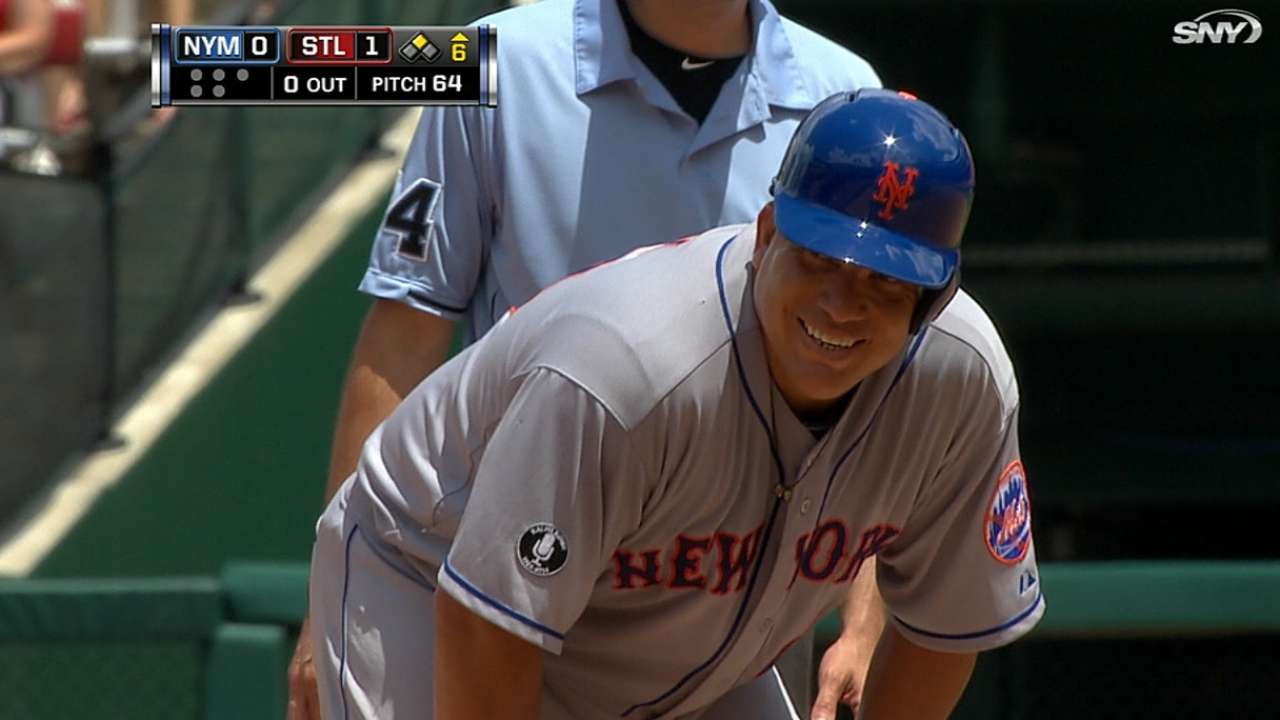 ST. LOUIS -- A smile curled across Bartolo Colon's face when asked if he could recall his last big league hit. He shook his head.
Next time, he'll have no problem remembering.
Colon's nine-year hitless streak ended with a double and run scored in the sixth inning of Wednesday's game against the Cardinals, marking his first career extra-base hit, his first hit of any kind since 2005 and just the 11th of his 17-year career.
Following 28 hitless plate appearances this season, including 17 strikeouts and numerous unsuccessful sacrifice bunt attempts, Colon led off the sixth by punching a 1-0 Lance Lynn fastball into the left-field corner. Officially listed at 5-foot-11, 285 pounds, Colon cruised into second base easily as the ball rattled around near the fence.
"It was one of those things where I thought there was no way he was swinging," Lynn said. "And he swung."
Three pitches later, Colon scored on Eric Young Jr.'s double.
"In all honesty, that at-bat right there cost us the game," Lynn said. "If I make a couple of good pitches there to get him out, then who knows what that inning would entail. That's part of it. You don't expect him to be the one who starts something like that, and he did. I guess he was due."
To say the least. The hit was a revelation for Colon, whose .082 career average coming into the game ranked third-worst among active players with at least 130 plate appearances, trailing only -- ironically -- Lynn and Mark Buehrle. His frequently wild swings have deepened the lore surrounding his at-bats, as have his propensities for losing his helmet and carrying his bat all the way down the first-base line. Fans at multiple ballparks have given Colon standing ovations for nothing more than putting the ball in play, though Colon has mostly taken it all with good humor.
"If he threw a breaking ball, I was going to miss it," Colon said of Lynn, laughing as an interpreter translated. "I was sitting fastball. I just ran into it."
Pitching for the White Sox, Angels, Red Sox, Yankees and A's from 2003-13, Colon entered this season with just 32 plate appearances over those 11 seasons. He was a significant reason why Mets pitchers recently set the all-time record for hitless at-bats to start a season, going 0-for-64 from Opening Day into mid-May.
"That's a big swing, a big swing for us," Mets manager Terry Collins said. "He's been known to ambush every once in a while, and obviously that and two sacrifice bunts, that's a great offensive day for a pitcher."
Anthony DiComo is a reporter for MLB.com. Follow him on Twitter @AnthonyDicomo. This story was not subject to the approval of Major League Baseball or its clubs.