Mets yet to decide odd man out upon Gee's return
Dice-K with most relief experience among current members of team's rotation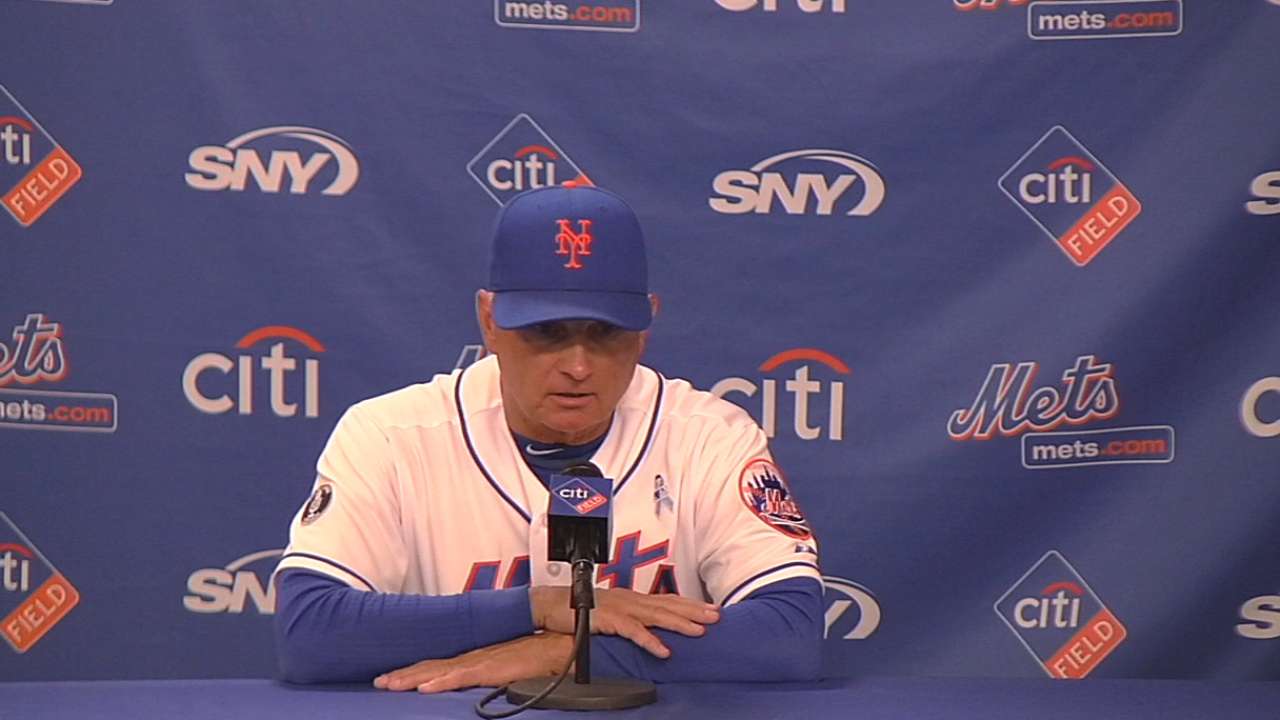 MIAMI -- With Dillon Gee's return to the rotation looming, Mets manager Terry Collins isn't any closer to deciding which of his starters is going to the bullpen.
Daisuke Matsuzaka, who got the call on Friday against the Marlins at Marlins Park, has experience as a reliever already. This year, he's pitched 24 1/3 innings over 17 relief appearances and compiled a 2.22 ERA while holding batters to a .145 average. One of those innings came as recently as Tuesday against the Cardinals.
In four starts this season, Matsuzaka is 2-0 with a 3.63 ERA in 17 1/3 innings, which includes just one inning in his last start because of a stomach ailment. So the right-hander has proven himself to be flexible, spot-starting or relieving when needed.
But Jacob deGrom's future is a little more unsure. He's only ever pitched out of the rotation as a professional, appearing in all 58 of his Minor League games as a starter. Collins is concerned deGrom might not have the durability to get up to pitch every day as relievers tend to do.
"And if they get up, how long is it gonna take them to get ready, because sometimes they gotta speed it up," the manager said.
It's been a while since deGrom pitched out of the bullpen.
When the Mets drafted him as a pitcher out of Stetson University in 2010, he had started the season as a shortstop and closer. He made five relief appearances, but ended up logging most of his innings when he was moved to the rotation to fill some holes in the pitching staff. deGrom became his team's No. 1 starter, throwing 82 1/3 innings in 12 starts and recording a 4.48 ERA.
That year was his only full season on the mound. In two seasons before that, he'd mainly been an infielder and logged just one relief appearance in 2009.
"Dillon's gotta get back in the rotation," Collins said. "We don't know certainly who it is we're gonna put back in the bullpen. When that time comes, we'll see whose names are brought up."
Gee could make his first rehab start early next week as he works his way back from a right lat strain.
Maria Torres is an associate reporter for MLB.com. This story was not subject to the approval of Major League Baseball or its clubs.